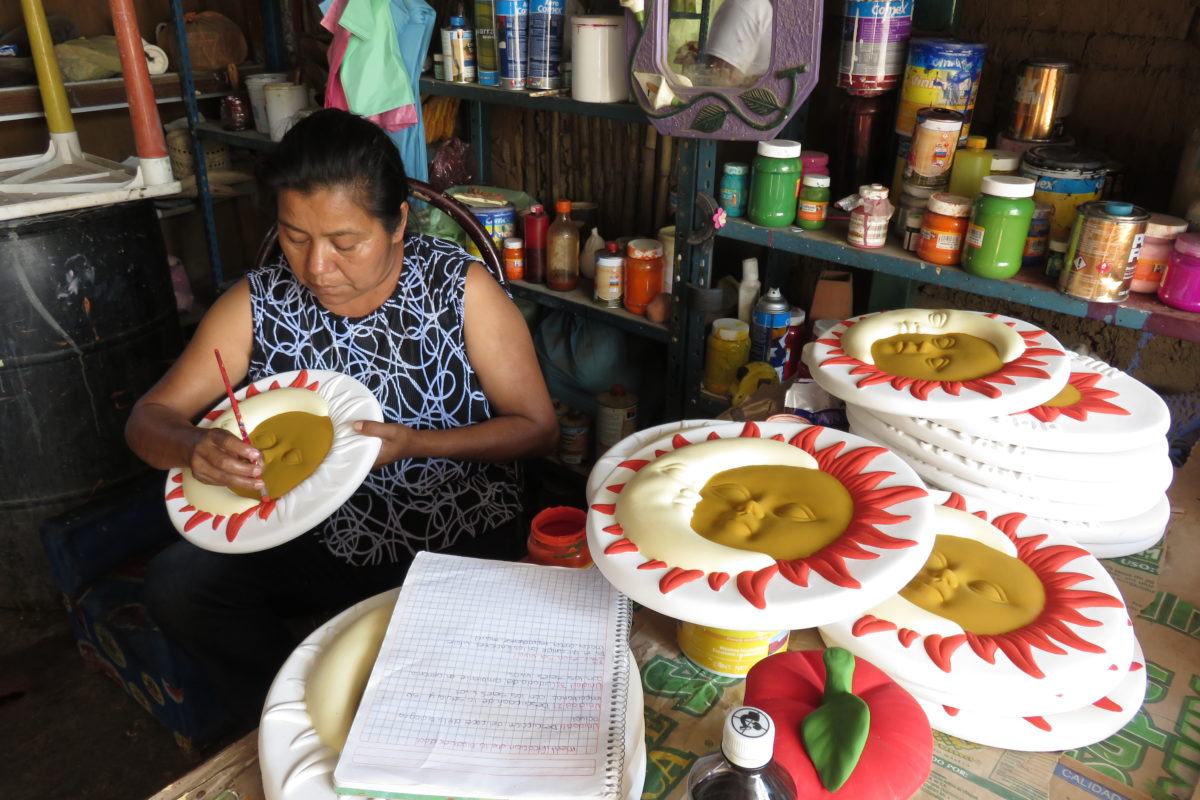 Just last week I returned from two weeks of visiting ESPERA groups in El Salvador and Mexico. It was a great adventure of bumping around in the back of trucks, getting some sun in the middle of a Minnesota winter, and eating an infinite number of warm, fluffy tortillas. But most of all the experience was deeply inspiring – in the moments women opened up to me about their personal economic difficulties, the cultural sharing, and the pride each woman had as she shared her name and what her business does. We'll be sharing so many stories, videos, and photos over the next few weeks, but I wanted to highlight here some of my impressions after these two weeks of learning!
ESPERA Loans Provide Access to Economic Goods
Overall, the need for continuing community lending pools and Mary's Pence staff visits is so apparent. It is also clear that we could continue to expand our program to meet need. Women clearly can improve their lives with the credit they receive from the ESPERA fund – most can't get a loan from a bank, or afford the high interest rates.  In almost every ESPERA group I visited, the women told me that they use the loan to buy raw materials – these are expensive and the ESPERA loan is often the boost the women need to get their business started.
For example, I met Myrna and Marta in the community of Aguacayo, outside of Suchitoto, El Salvador. They worked together to buy cattle – which is rare for women to do in El Salvador. They have used Mary's Pence loans to invest in a growing herd of cattle, thereby gaining more income. They have been so successful that they even have been able to buy their own land – also a rarity for women in El Salvador!
ESPERA Responds to the Needs of Women in Central America, Mexico, and Haiti
Mary's Pence is working hard to expand our ESPERA program in order to improve the support women have as they start and grow their businesses. We want to ensure that each woman has the skills she needs to grow a sustainable business. There were many questions in each group sharing I attended about market analysis, recordkeeping, and business competition, among many others. We have listened to what the women are struggling most with at this time, and we are responding.
For example, I met Letty in Cuentepec, Mexico, an indigenous village in the state of Morelos. She recently used Mary's Pence funds to open a little store. The costs for running a refrigerator for cold drinks is high so she diversified her products from just selling Coca-Cola to selling all sorts of refrigerated goods. And she even loans out part of the refrigerator to others who may not have this access. Letty is a strategic business thinker and it has served her well. These are seemingly small business choices that can make the difference that helps women get ahead. We want to help other women think strategically about their business with our new business development project.
ESPERA Creates Women-Led and Women-Owned Spaces
We talk a lot about the impact of the loans themselves – the businesses our women create, the increase in their income, the savings they acquire. But I was deeply moved by another aspect of the ESPERA program, provided by the regular meetings with Gilda, the network-wide assemblies, and the casual exchanges among ESPERA women from different countries. These exchanges serve a real, ritualistic purpose. They bring women together. In many contexts women don't even have the opportunity to simply be together as women – to converse, to share difficulties and joys. This in and of itself has value, in terms of solidarity. So much of our world is drawn with a male-dominated lens – especially the economic sphere. It is clear that outside of the concrete, monetary support, our staff and organizational support creates a feminist answer to our male-dominated world.
Thelma, a member of the ESPERA network ASMUR, in Bajo Lempa, El Salvador can summarize my thoughts better than I can – when I asked her what it meant to her to be in a women's network she said, "It means a lot, because it helps me to feel more free, more independent… And there are a lot of women in bad situations, who aren't treated well by their spouses, I can help them, I can explain where they can get help…[we learn many things, participate in trainings and meetings, and] like this, many things teach us how to feel like birds that can fly free."