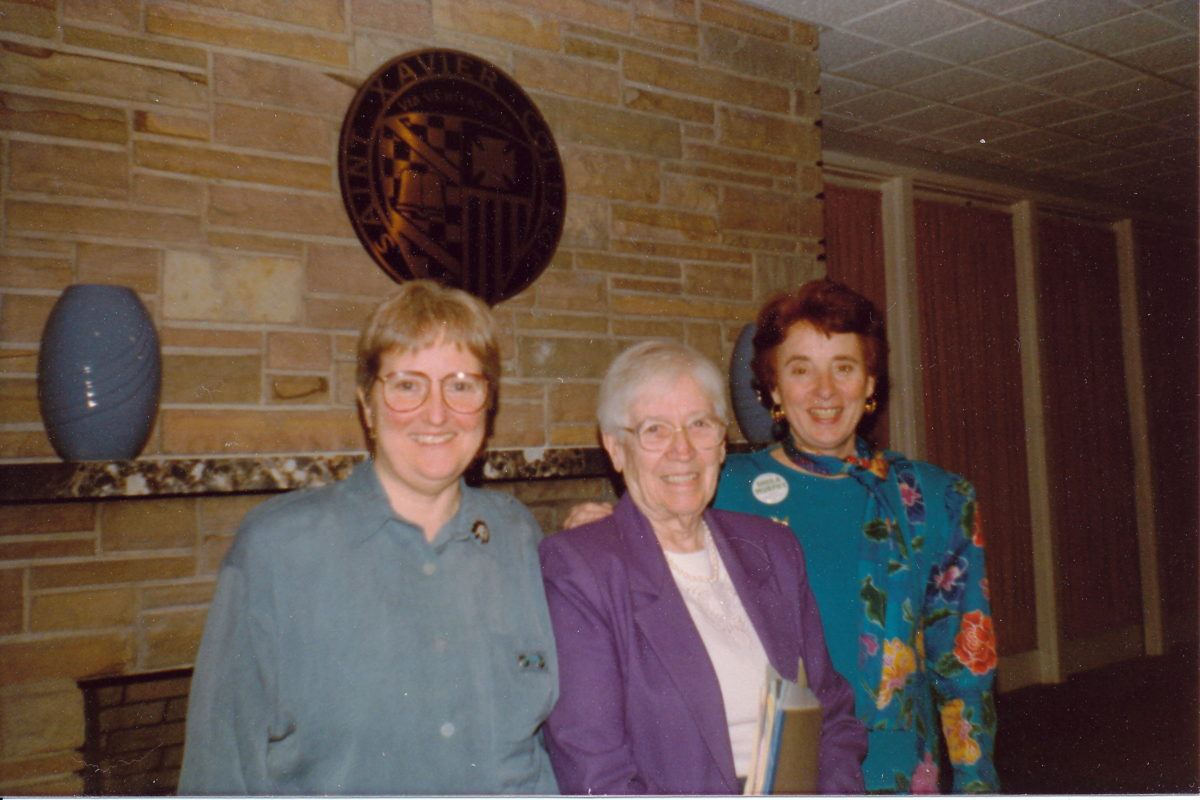 Tell me about your initial call to ministry and how you trained for it.
All my life I've been active in the Church especially in religious education at all levels, from parish to diocesan.  In the 1960s I was amazed to learn that parents didn't mind that religious educators didn't have certification or training; they would if it were a math or English teacher. That motivated me to get a degree.  First, I went to the Catholic Seminary in Rochester, New York, where, at the time, I lived with my husband and four children.  The rector was a lovely man; however, without a philosophy background, I couldn't complete the Master of Divinity there, which was the only degree they offered. Instead, I applied and was accepted at a local Protestant Seminary for a Master in Religious Education.
I had always felt that something was amiss in the Church.  It was during this time that Vatican II was held.  We were reading and teaching the documents while the ink was still wet!  Vatican II also encouraged people to return to Scripture. As a member of the first diocesan Lay Board on Confraternity of Christian Doctrine, I gave seminars on the meaning of the documents of Vatican II. It was so interesting to note the kinds of issues and concerns the people of God asked.
It was a time of great growth for me. And a time of great activism. I created an Ecumenical Dialogue for women meeting with women of different denominations.  We were active in the movement to bus children from the city so that our schools were integrated with a diversity. There was a program that brought African-American teachers from the South.  Several came and one was so loved and respected that a school is named after him–The Taylor Elementary School in Spencerport, New York. I was also working in the Roman Catholic Diocesan Office in the Education Department.
While all this was going on, Al, my husband, was transferred by his company to Oak Brook, Illinois, a suburb of Chicago.  Little did I know that by agreeing to move with him because I loved him, my life would be changed in a direction I never dreamed of.  One more life change was that I completed the requirements for a M.A. in Religious Education.  My counselor urged me not to accept the degree and apply the credits to a Master of Divinity Program. He then said, "You are priestly material." My response was, "I know my place in the Church." I never want to forget that I said that, and that I believed that in 1968.  It is a watermark from where I was and where I am today.
You were the first married woman with children to receive the Master of Divinity from a Catholic University in the United States.  How did that come about?
As I said, my husband was transferred to the Eastman-Kodak office in Oak Brook, IL.  I was accepted at the Jesuit School of Theology in their Master of Divinity program.  I was among the first women to attend school there.  Some of us went full-time, some part-time, others did correspondence type study using tapes. I was the only woman there who was married and had children. It was an interesting time of growth for the school as they learned to integrate women into their program.  They first thought they could put "Women" on one of the bathroom doors and it would be done.  There was no overt oppression but some covert oppression.
How was your ministry shaped after receiving your degree?
While living in the Chicago area, I met Mary B. Lynch who had started a movement to get women ordained as Deacons.  She called a meeting, and a taskforce was formed to hold the First Conference on the Ordination of Women to a New Priestly Ministry.  I joined that Taskforce and the Conference was held in November of 1975. At that meeting the Women's Ordination Conference was created and I served on the first Coordinating Circle of WOC.
The bishops of the United States called for a Call to Action Conference to be held in Detroit in 1976 to celebrate the bicentennial year of the country. WOC was denied admission and we met and strategized with the other organizations who were also denied admission. Some of them were the most conservative organizations at that time.  However, we worked together for the justice of having a diversity of organizations present.  Through our work and the cooperation of people on the Admission Committee, we were granted admission.
It proved to be a great learning experience. One bishop stated that "social justice was not a part of Scripture" and further commented "and I checked with the Vatican." At one point, a group of men circled a man who interrupted the proceedings so that security would not hurt him.  The entire experience was the only one I have had in my seventy years of the Church having a democratic process.  When the final publications were printed and published, many of the decisions made were diluted and some made invisible.
What a gift to meet so many wonderful women like Donna Quinn, Maureen Hickey-Reiff, Dolores Brooks, Anne Carr, Kaye Ash, Rosemary Radford Ruether, Elizabeth Schussler-Fiorenza, Georgene Wilson, and so many more.
The final requirement for the M.Div. was to write a Synthesis. One had to pick an issue and integrate the elements of all the other disciplines studied in the program. I submitted a proposal to have my story to be the issue and permission was granted. This was a gift beyond my imagination. At forty-four years I had an opportunity to review my life and integrate it with all my studies.  This actually became a very important reality in my later years.  The title of my synthesis was "Love, Power and Justice." It was dedicated to "Al, my husband, my friend, who has shown me through his steadfast love, the face of God. Alleluia." I had the honor of publicly thanking him for all the sacrifices of time, energy and finances, all examples of his love for me on this journey to finding my real self.
Through my ministry as Co-Coordinator of the Women's Ordination Conference and my theological studies I realized that the Magisterium of the Church do not want women, have never wanted women and never will want women in priestly ministry.  When they published the "Admission of Women to Presbyteria Ministry" which stated that "women cannot be priests because women do not image Jesus," their position became clear. They also stated at the end of the document that women could not possibly have a call. I thought of the more than 300 women who had stood in Detroit in response to, "Who among you are called?" They were defining our experience of being called to this ministry by God.  The experience of  "democratic process" was realized as a fluke and gift of the Spirit.
While working with the Women's Ordination Conference, one heard the pain in women who were living out the question asked by Margaret Farley in 1975, which was, "Can we women say to the Church, 'have we been so long with you and you don't know us?'" Still buoyed by hope, we  spent several years in dialogue with the U.S Catholic Bishops. The truth was quite evident by now…the men of the church will never want women ordained as priests.  It was time for me to leave. First I thought that I had exiled myself from a home that was so important to me. Then I realized that the Magisterium had exiled me. At my last meeting with them, I told them, "Bishops, I have prayed very hard over what I am about to say: Boys, you can have your church back."  And I left.  The others at the table told me the bishops were sad about what I said.
When we moved back to Rochester, I was indeed a wounded woman in need of healing. An opportunity arose to teach at a wonderful Catholic all-girls high school. Their mission was to create a community based on Luke 4:
            The Spirit of the Lord has been given to me,             and has anointed me,             and sent me to bring good news to the poor,             to proclaim liberty to captives             to give the blind new sight,             to set the downtrodden free,             to proclaim the Lord's year of favor. (
Adapted from the Jerusalem Bible
)
It was four years of working in community, loving the young women into their real selves, that brought healing to me.
After I retired from the school, three other faculty members and I formed the Prism Collective. In a period of eight years we wrote books of feminist scholarship for secondary schools. We wrote two curricula:  A Sociology of Gender Roles Across Race, Class and Culture and Images of the Divine:  A Multicultural Feminist Perspective.  We also wrote two journals: Journey to the Divine Within and Journey to a Place with Faith-Filled Women.  We empowered Mary C, a ninth-grader to create a video entitled, "Choices at the Crossroads." She interviewed her classmates on the issues of race, gender and class.  The work continued as she interviewed the women again while a student at Syracuse University.
We also wrote books for adult women. One is Sisters of the Thirteen Moons: Rituals Celebrating Women's Lives and another is Rituals for Women Coping with Breast Cancer. This broken soul was healed from all these loving, creative and exciting people and actions.
It was during this time that I got the call to join Mary's Pence.  It was a great opportunity to go back to Chicago and be with all those wonderful women I worked with.  It was a voluntary board and we all donated our travel costs.  There was such generosity on that board.  Because I understood that the role of Secretary was to write the story of a entirely now form of activism, I assumed that role.   It was such an honor to be the one writing the story of Mary's Pence.  I took that responsibility very seriously.
Through this activism, reflection and prayer I came to understand that the oppression of women was due to a system of beliefs called "patriarchy."  It is that system that needs to be changed.  I named my life's mission as: to make the world a safer place for women, a saner place for men, and a better world for our grandchildren yet unborn. Mary's Pence was another place where I could fulfill my mission.
What was your original hope for Mary's Pence and how did that change over time?
At the beginning we had no grandiose ideas, it was just a great group of women who were going to do something.  We understood that the people who knew how to write proposals already had money.  We wanted to reach those who didn't know how, who really needed the money, and teach them.
We also understood that the money was important.  The economic piece is key.  When people tell me they give money to the institutional church, I ask them, "Why? It oppresses your mother, your wife, your daughter, your female cousin."  The last time I gave money to the institutional church was in 1965.  I've given a lot of money to Church, just not the institution.
Does Mary's Pence look the way you thought it would at 25 years?
It has grown beyond my wildest imagination, especially the work in Latin America and the ESPERA Fund.  It is truly about freedom for all women!  It was just an honor to travel the years with those women.  Congratulations to all the women of Mary's Pence!
What are you doing now?
Currently I am a certified Sage-ing Leader.  We try to end of oppression of elderly by changing ageing to sage-ing.  I work with three groups of women who are writing their memoirs, writing their legacies.  It's exciting to be with women as they journey on the road to find their real selves.
When women tell their stories and people listen without judgment, miracles happen! When women share their stories of how they are helping other women to find themselves and creating a better living and their needs with Mary's Pence and they receive a grant,  MIRACLES HAPPEN…see www.maryspence.org