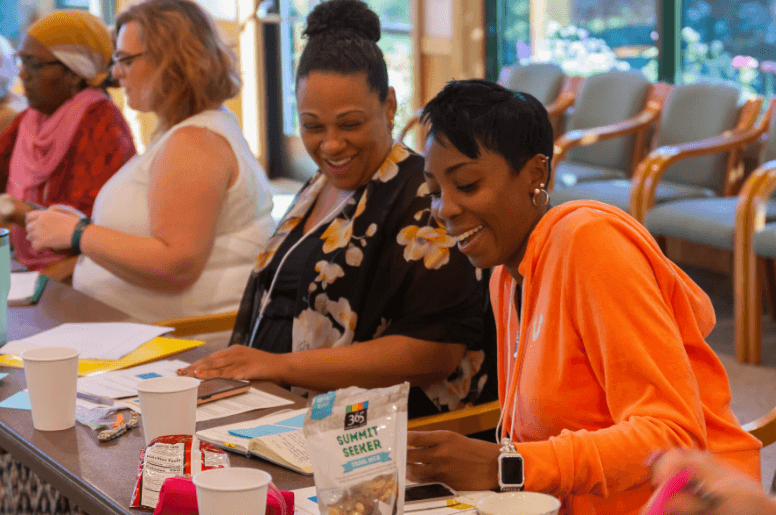 During the course of 4 beautiful fall days, 20 women representing 12 Mary's Pence grantee organizations connected, learned, relaxed, and had fun at the Second Annual Grantee Retreat. Held in Farmington, Minnesota, from September 22-25, 2019, the retreat brought together grantee representatives, Mary's Pence staff, and expert facilitators.
The theme of this year's retreat: "Flourishing Organizations: Operating a Small Nonprofit," placed an emphasis on building organizational capacity to promote sustainability. Major presentations focused on building leadership skills, creating and nurturing organizational partnerships, and using social media more effectively. Activities were also included that allowed grantees to share their experiences with one another.
A favorite session from the 2018 Grantee Retreat called Pitch a Problem was a highlight again at this year's gathering. For the activity, small groups were formed and each woman in the group had the opportunity to share a challenge facing her organization. Group members then provided feedback and suggestions for how the challenge could be addressed. As a result of brainstorming solutions with their professional peers, participants were able to develop ideas and create action plans to address their organizations' specific needs.
Attendees expressed immense gratitude for the opportunity to come to Minnesota to meet other grantees and learn about their work. The intense nature of operating a grassroots organization often means that it is hard to step away and meet others doing similar work. Living, eating, and learning together allowed grantees to connect with each other on a deeper level. Two attendees recognized the importance of this unique opportunity and shared:
"I learned a ton about other areas of social justice outside of mine. I would also support all these women. I learned a lot about Mary's Pence. It's not what I thought the organization was…it's so much more!"

"I leave this retreat having let go of so much self-doubt. I now know I will be able to do my work with confidence. I also learned how to talk about the work that my organization does and how to make others care about that work."
Mary's Pence is grateful to the 20 women who attended the retreat. Their passion for their work is infectious and their journeys seeking social justice in their communities are beyond inspiring. The time spent together was a gift—as learning from grantees is a valuable part of the grantee-funder relationship.