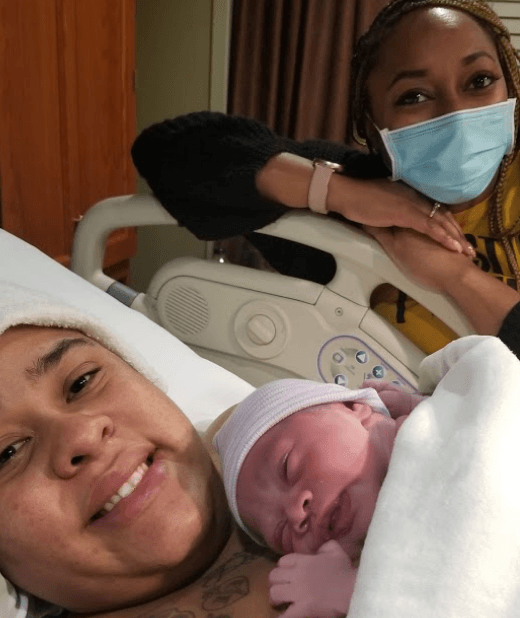 Being pregnant and giving birth are among the most sacred experiences in a woman's life, and represent a vulnerable time for mother and baby. Disparities in birth outcomes are high, with women of color at greatest risk for complications. Two Mary's Pence Grantees address these issues by working to ensure that women of color have the support they need when welcoming their children into the world.
Mama to Mama | Louisville, Kentucky
Mama to Mama trains doulas and matches them with families needing support.  Doulas are trained birth professionals who provide non-clinical support throughout the perinatal period by providing education, physical comfort measures, emotional support, and health care advocacy.  
Having the support of a doula can reduce the disparity in birth outcomes. Research has shown that the support of doulas results in shorter labors, fewer cesarean sections, and reduction in other medical interventions, in addition to reducing health disparities. 
Mama to Mama is working to ensure that doulas in the local community reflect the community's diversity.  Mama to Mama ensures that most of the women trained though their program are women of color.  They trained 10 women in 2020, and plan to train more doulas in the coming year.  Last year Mama to Mama accompanied 25 women during their pregnancies. 
Prior to COVID training was delivered in person, but during the pandemic it has been provided virtually.  This saved money originally budgeted for daycare, so Mama to Mama used the funds to support a woman of color with a scholarship to cover some of the cost of her training.
Founded by two white women, Mama to Mama was aware from the beginning that they wanted their organization to reflect the community; they are very deliberately and successfully incorporating women of color into the leadership team.
Mama to Mama is also involved in state-wide advocacy efforts to lobby for changes in Medicaid rules that would allow doulas to bill for reimbursement.
Sueños Sin Fronteras de Tejas | San Antonio, Texas
Sueños Sin Fronteras de Tejas (SSFTX) is a Latinx, WoC-led (women of color led) collective aiming for better health outcomes and increased healing opportunities for immigrant and undocumented women and their families in South Texas.
SSFTX provides the following support: Health Advocate Program, Court Observation Program, Commissary Fund (for families detained by ICE at the Karnes Family Detention Center), Outreach Coalition (identifying resources for migrant and refugee families in their own communities across the US.) and Medical Task Force (for recently arrived migrants and refugee families).
In June 2020 they created the SSFTX Birth Network to identify compassionate bilingual birth workers engaged in direct support to pregnant women supported by SSFTX.  It is an intentional space where BIPoC (Black, Indigenous, and people of color) birth workers can share education, insight, and experience. Fifteen doulas and advocates are involved and will be offering educational webinars and direct doula support to women supported by SSFTX. The birthing support will be rooted in solidarity, anti-racism, and reproductive justice for undocumented birthing people in South Texas.
As part of this work SSFTX partnered with Raices Texas to host virtual baby showers for 3 pregnant women in need of essential items.  Among the women helped was a single mother from El Salvador who is the sole provider for her 3 children and a domestic abuse survivor who was also harrassed by ICE. Another woman is a 32-year-old undocumented mother from Honduras who was fired from her job when she reported harassment. Shedidn't qualify for unemployment benefits and finally found a new job after 5 months.  The third mother spent 1 month of her pregnancy in detention but is now getting settled in a new community.  
Although Mama to Mama and Sueños Sin Fronteras de Tejas work with different populations of women in different life circumstances, they both respond to the mission of Mary's Pence. Both women-led, community-centered organizations empower women and their communities to flourish in solidarity and justice.