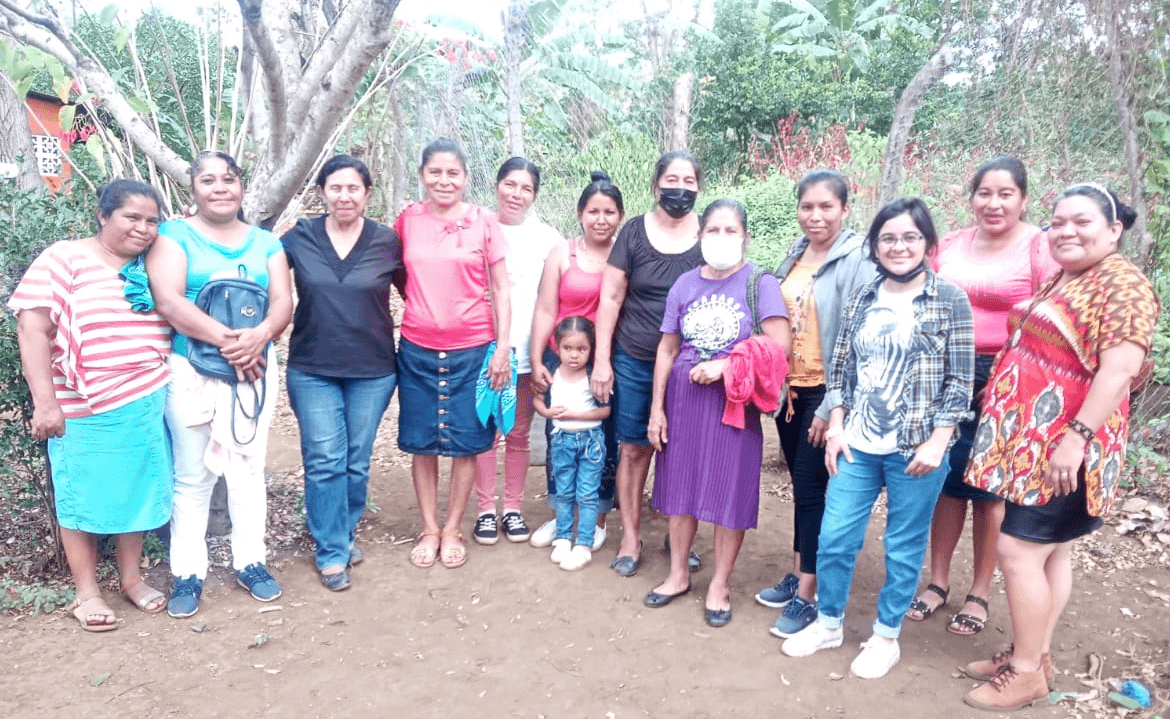 After meeting virtually with CEPROSI's technical team and studying all the information available about their story, our ESPERA Program Lead, Mabel Martínez, made the 11 hours bus ride from Tegucigalpa, Honduras, to Nindiri in Nicaragua to meet the women in person for the first time after joining Mary's Pence's team in September last year.
"In addition to learning more about the women with whom Mary's Pence works, this trip is significant to me because it was to return to where I previously worked with people with HIV, and which in 10 years has changed significantly," Mabel recalls.
During her visit, Mabel met with five women's groups in the municipality of Nindiri and visited 20 economic initiatives supported by CEPROSI, our ESPERA partner organization in Nicaragua.
CEPROSI has always been led by women from the local communities, including Lucila, Rosalia, Pilar, and Xenia, the coordinator. They have been in the organization since its inception in the early 2000s, and they have been the link with Mary's Pence since the beginning of our work together almost seven years ago. 
Living in Uncertainty
Xenia has led CEPROSI with a holistic approach, where businesses and mental health have equal relevance. She leads with a clear vision of the challenges women in rural Nicaragua face. 
Poverty, limited access to education and healthcare, and gender-based violence are key obstacles women in this country must navigate. For many women, the struggle to provide for themselves and their families is a constant battle.
"Nicaragua has the second highest rate of teenage pregnancies due to sexual abuse in Latin America and the highest rate in Central America. We live in a country where being a woman implies being exposed to receiving violence. On top of this, Nicaragua's economic recession affects women and families in our rural areas because they're the most vulnerable in their ability to work and make a steady income," Xenia states.
Regardless, the women led by Xenia are committed to pushing through the injustices and flourishing. Xenia adds, "We are taking action; we want to guarantee a life free of violence, which favors our development and well-being following the principles of equality and non-discrimination."
The Solidarity and Resilience Effect
Mabel met these leaders and participants for the first time with a first-hand understanding of these challenges because of her work in the region in the last decade. They spoke about their struggles, their businesses, and how their relationships with one another have kept them active for 20 years. 
Together they also identified opportunities for improvement. For example, they discussed effectively accompanying women and helping them improve their living conditions by providing closer advice and tools to enhance their economic initiatives.
Mabel discovered that women often engage in multiple economic initiatives without recognizing them as valuable work because they are so ingrained in their daily lives. For example, raising chickens and pigs and growing minor crops are part of their traditional roles, but they are also important sources of income for their families.
At Mary's Pence, we recognize that providing women with resources is essential to their success. Additionally, we believe in the importance of building their self-confidence and self-belief so that they realize their full potential. This commitment sets us apart from other organizations working in the region.
Beyond the Money
In addition to supporting initiatives through accompaniment and training, Mary's Pence emphasizes the well-being of ESPERA members. Emotional wellness support is critical so that women can understand the value of their work and build self-confidence and resilience. 
Through an online leadership course for ESPERA women across five countries, women are learning communication skills and emotion management tools. Together with increased income and profits, these skills provide economic security, empowerment, and a sense of safety and belonging.
During Mabel's visit, a total of $3,850 were distributed in loans to the "Sol de Vida," "Fe y Esperanza," and "Cristo es Luz" collectives in the communities of El Papayal and Campuzano, all part of the CEPROSI organization. These loans benefited 11 women and their initiatives, including natural medicine products, raising crops and animals, and a bakery.
It is important to note that all money provided to our grassroots partners is a grant, and the lending pool is owned and managed by the women, in this case, by the women of CEPROSI. They work with the help of Mary's Pence ESPERA staff. The money in the lending pool never returns to Mary's Pence but remains a sustainable and growing resource in the community.
"My main learning is the resilience of women, especially rural women, in the face of all kinds of circumstances and how important solid organizations are to accompany them in the different processes. I am deeply grateful for the welcome they have given me, the affection, and above all, the trust and openness they had with me during my visit," Mabel concludes.
If you liked this story and want to improve women's lives. Please, donate here.