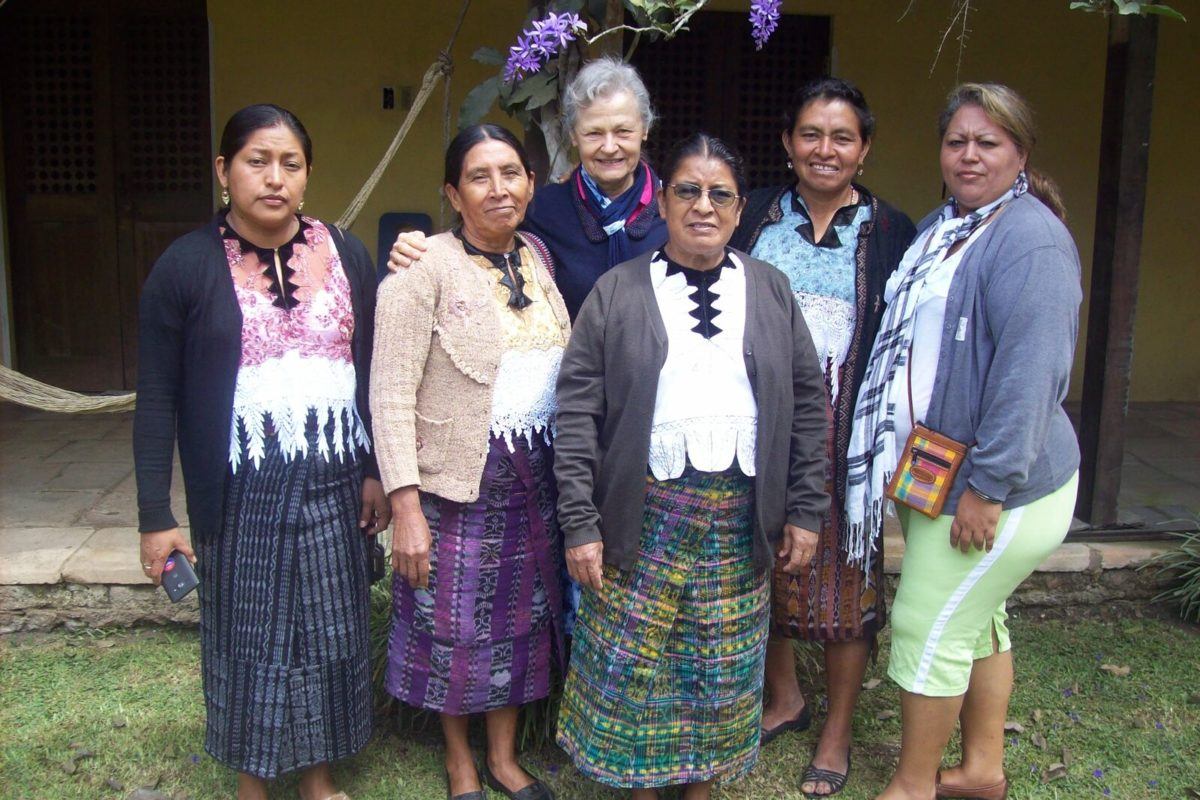 A Feminist Model of Micro-Lending
Funding women effectively looks different in each community Mary's Pence works with. In 2008, we founded the ESPERA program because we wanted to partner more deeply and successfully with women in Mexico and Central America. From the beginning, we knew that unlike other micro-lending programs, we wanted to create a feminist model of community lending, which measures success by the effects the program has on women, their communities, their well-being and economic autonomy, not merely profits and repayment rates.
Key Elements of the ESPERA Community Lending model
Funding Existing Women's Organizations
The groups we work with are grassroots women's organizations that are working for justice in their local communities. They have shown a commitment to working collaboratively for the common good. And they have demonstrated a desire to invest in their community.
The Funds Stay in the Community
The funds that Mary's Pence provides to our partner organizations, both to start the lending pool and to support additional capacity-building, are grants. This ensures that we don't inadvertently put the women in debt. And it means that the lending pools are a sustainable resource, used by the community into the future.
A Different Definition of "Solidarity Lending"
While solidarity lending may sound like a good concept, it really means that women are responsible for ensuring each others' loans are paid back, in addition to their own. This can actually cause instability and resentment within a community if one woman is unable to repay her loan for any reason. While the ESPERA women work in community, actively encouraging and supporting one another, each is responsible only for her own loan.
The Women Participants are the Decision-makers
Because each of our partner organizations is working in different contexts, the women who participate in the lending are the ones who make decisions about how the funds will be distributed and used. We trust in the women's wisdom and knowledge of their community, while also providing opportunities to learn new leadership skills and consider new ways of thinking.
More than Money
When Mary's Pence started the ESPERA program, we hoped to help 300 women invest in businesses that met needs within their communities. Over 10 years, more than 1,070 women have received more than 2,030 loans, cumulatively totaling $697,463, to invest in their businesses. That's nearly five times the original amount of money invested into the lending pools.
Almost $71,500 in interest has been collected. These funds are used to pay local organization members to administer the lending pool. Interest can also be used to increase the overall amount in the lending pools. Three of our organizational partners have recently begun savings programs. Additionally, nearly $15,000 in savings has been accumulated.
Developing Women's Business Skills
In 2015, Mary's Pence invested in a full-time Business Facilitator position to support the ESPERA women. The Facilitator has primarily worked with women from two partner organizations in El Salvador and one in Mexico, both in small groups and as individuals. She begins by listening to the women to understand their needs and motivations.
Over time, she has helped women assess which products and initiatives are most successful. She brought together three women running small shops (tiendas) from their homes, a popular type of business. Together they determined success factors and created business plans, which can be shared with many other tienda owners. She has also supported women with accounting, budgeting and money management. Once she discovered that a woman's struggle with accounting was due to poor eyesight – a reminder that solutions are not always obvious or one size fits all.
Responding Holistically to Women's Needs
The ESPERA staff work hard to develop close trusting relationships with the participants, something unique to many international non-profits. In fact, we've been told that the women don't feel nervous or like they need to present themselves a certain way when the Mary's Pence ESPERA staff come to visit, the way they do with other funders.
The ESPERA participants and staff value transparency and honesty, and have built up to it over time. For example, the women felt comfortable to confide in staff that many of them are struggling with mental health. These relationships enabled Mary's Pence to respond to this barrier to healthy and full lives effectively. Together staff and community leaders were able to craft a variety of workshops over the past year that supported the women's healing and learning around mental and emotional health. We are proud to support the women holistically and with empathy.
Enhancing Organization Capacity
Our partners are local community organizations that are dedicated to working on issues like food sovereignty, domestic abuse, sexual violence, and disability rights. Knowing that these grassroots organizations can play a critical role in promoting structural changes within their communities, Mary's Pence supports capacity building activities for board and staff members.
Capacity-building grants have been used to pay stipends for administrative staff for several of our partners. Mary's Pence has also granted funds for facilitators for various needs including strategic planning, conflict management, evaluations, and other assemblies including a workshop on personal safety.
Continuing the Fight Against Systemic Injustice
Our work creating feminist economic models and building community among women remains vital. Economically, opportunities in the formal sector remain slim. Politically, issues affecting women's rights and human dignity continue to arise. Our partners continue to mobilize around water privatization, food sovereignty, property ownership, and violence against women. Many of the ESPERA women suffer post-traumatic stress from experiencing the wars in Central America. Violent gang activity has also increased significantly over the past several years.
Looking to the Future of ESPERA
In January 2019, women from each of the eight ESPERA partners will gather in La Palma, El Salvador for the second cross-region Encuentro. The women will have the chance to connect with the broader ESPERA community. They will participate in evaluation exercises to help understand what's most effective about our model, and understand areas were Mary's Pence can expand our support. Together, we will create goals and set direction for the future of ESPERA.