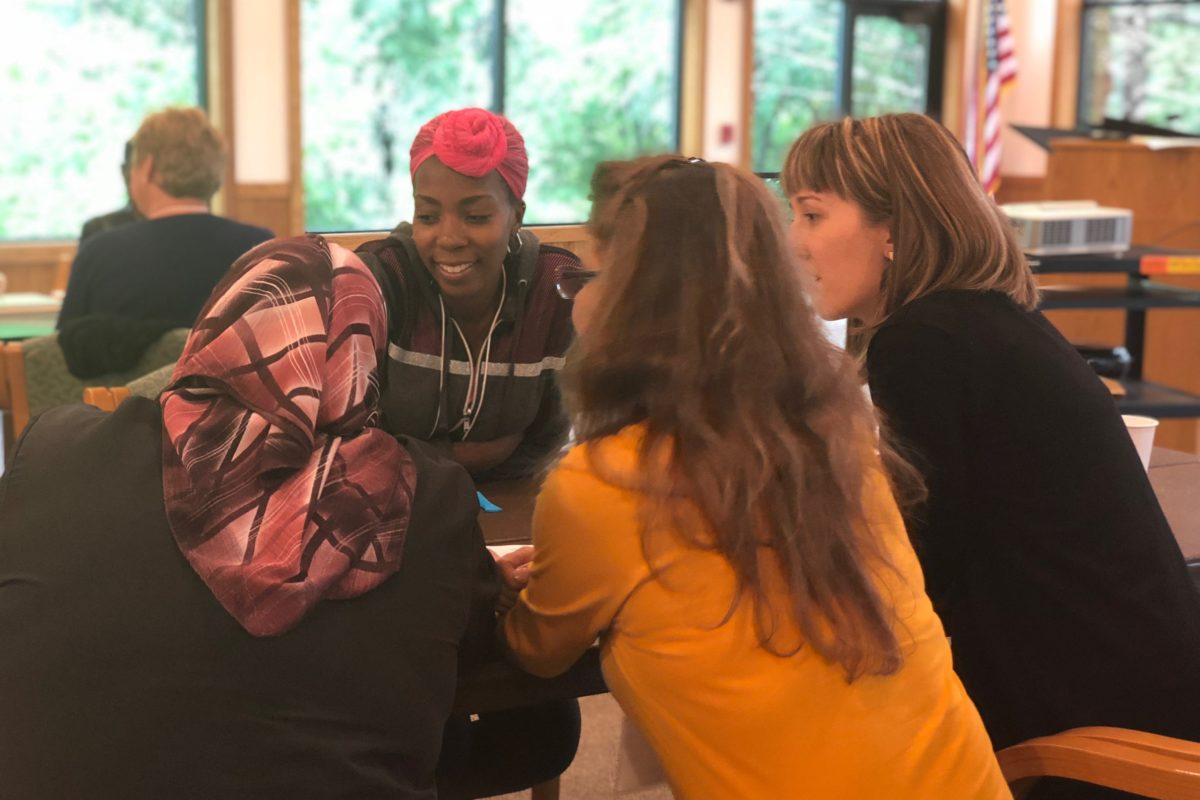 A Capacity Building Dream Come True
In April 2017, as we celebrated our 30 years of funding women and changing lives, Mary's Pence began fundraising for what was then just a dream – a retreat that would enhance grantees' skills and create supportive relationships.
Mary's Pence specializes in funding small grassroots organizations that are run by women for the benefit of women and their communities. These kinds of organizations are increasingly being recognized as vital for social change. Yet, most capacity building and professional development resources are created for charity organizations with large budgets and staffs. As a small women-led, social change organization Mary's Pence is uniquely positioned to understand the challenges our grantees face, and the benefit of coming together with like-minded women to support one another.
In January 2018, Robyn Browning joined the Mary's Pence team as the Grants Manager. Her role is designed specifically to create a closer relationship and provide support to our grantees. Based on information Robyn gathered through surveys and conversations, Mary's Pence designed the inaugural grantee retreat around the theme Messaging Your Social Justice Mission.
At the Retreat
Twenty-three representatives from fourteen current Mary's Pence grantees gathered in Farmington, Minnesota for three days at the end of September.
Words
Strategic Communications Consultant Deb Garvey kicked off the retreat with a workshop on crafting clear and memorable messages, with special attention to communicating the social change created by each organization. The workshop was a welcome opportunity for staff and board members to take some time away from the urgency of their work and think about it holistically and strategically.
The next day, Grace Olson, Development and Communications Manager at Mary's Pence, followed up on Deb's workshop with a practical guide to planning organizational communications. Grantees left the session with templates for communications and social media planning, plus tips and tricks for implementing their plans in small organizations with just one or two staff and some dedicated volunteers.
Photos
In a world where people's attention is pulled away most often without reading to the end of any article or post, Evan Johnson's presentation on taking better photos was of vital importance to Mary's Pence Grantees. Most importantly, Evan tied into Deb's presentation on messaging by asking grantees to think about the story they wanted to tell with their photos. Attendees worked in groups to take photos, and put Evan's tips to work. The next day, Evan provided feedback on their photos in real time.
Videos
Mary's Pence hired Henry Schneider to create a short video for each grantee to promote their work. Videos are an expense that most of our grantees cannot afford, yet will prove critical in helping them promote their work to both potential donors and beneficiaries. The videos will incorporate both the messages the grantees honed at the retreat and their improved photo skills.
Reflection
Coach Joan Haan facilitated an exercise for the grantees to help them better understand the challenges and joys of the roles of staff members, board members, and executive directors. While each group shared insight into their unique perspectives, they felt a common sense of responsibility and pride for the organizations they served, and expressed a strong need for community.
The retreat also provided space for reflection as a group at the beginning and end of each day, which were lead by Mary's Pence staff and grantee participants. In one reflection, everyone had a chance to share what motivates them in their work. In another, everyone was encouraged to celebrate the gifts they offer. Community also formed during unstructured time around meals, hiking, and s'mores at the bonfire.
In Our Grantees' Words
When asked what the most valuable part of the retreat was, grantees said:
"The content and the space to think, and the inspiring spirit of these women together."
"The camaraderie with all the women and the intentional love from Mary's Pence."
"I felt validated."
"Being encouraged and inspired by other women leaders. Gaining new insight and skills to bring back to my organization."
"It provided space to step away and acquire new skills necessary for our work. It was not overwhelming but gave us opportunity to connect and learn and even eat and sleep well – two things I think many of us are lacking."
"Sisterhood."
Here's what else they had to say:
"It went beyond my expectations. I learned so much more than I thought I would, and the connections made are priceless."
"It was so incredible to make meaningful connections with like-minded women running nonprofits at roughly the same stage. This retreat was a jump start for our organization."
"I cannot express how wonderful it was to not only have an opportunity to learn and network, but to feel valued by a funder to give us professional development opportunities and make us feel worthy of taking this time away from our work. It is often overwhelming and exhausting, but it is inspiring to meet others in the same boat and not feel like we are alone. Your generosity both financially and emotionally has blown me away."
"I feel rejuvenated."
In our final reflection, we asked everyone what they would be taking away. Nivedita, the Executive Director and Founder of Wishwas in New York said this:
"We are taking away a beautiful capacity of people, their experiences, perseverance, and their determination to tread the path they chose. We are also taking away the kindness and generosity that was extended to us by Mary's Pence. The history and the people at Mary's Pence who are making a difference to the nonprofit world."
Learn more about the Mary's Pence Grants program.
If you like our work and want to improve women's lives. Please, donate here.