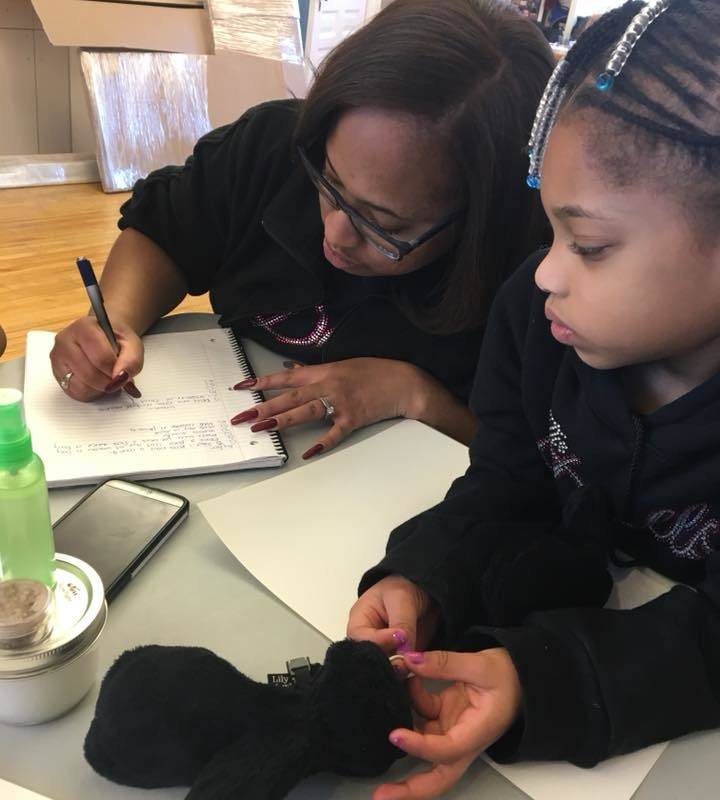 "Lead by example. Support women on their way to the top. Trust that they will extend a hand to those who follow."  -Mariela Dabbah
History shows us that achieving equality is a multi-generational issue. Recent Mary's Pence grant recipients, Code/Art in Miami, Florida and Project DIVA in Minneapolis, Minnesota, are two organizations who give life to Mariela Dabbah's words.  Each program relies on volunteer mentors from their communities to use their experiences and knowledge to help young women build the skills they will need to broaden their futures.
Supporting Women in STEM Careers
Mary's Pence Grantee, Code/Art is led by women in STEM careers who educate and mentor girls encouraging them to pursue careers in computer science. Girls, grades 4-12, learn to use computer coding to create art. Code/Art makes the connection between art and science to bring young women and girls into coding, an industry where one study in 2015 stated only 8% of software developers are women. Using art allows girls to use their creativity as well as logic to create their works of digital art.
Because STEM careers are some of the most highly paid occupations, women's increased participation will result in increased economic opportunities. As more women and minorities join the sector, they will also move into leadership positions which will impact the advancement, pay, and handling of harassment issues of women in STEM and tech careers.
The Mary's Pence grant supports collaboration between Code/Art and the Girl Scouts of Tropical Florida. The coding workshops and events are designed to help the scouts better imagine computing careers in STEM in a way that highlights the fun and creative side of Computer Science. In addition, scouts will be able to put their new computing skills to use when working on community service projects for their Bronze, Silver, and Gold Awards.
Scholarship recipient, Paula Torres. expresses the importance of Code/Art to her and her peers, "Receiving the Code/Art scholarship helped me to further realize that I can achieve anything I set my mind to. I love what this program is doing for young girls — not only helping us achieve our dreams, but encouraging us to follow a career path that is not often pursued by women. Code/Art is showing us that we can do anything!"
Overcoming Limiting Racial Stereotypes
Young black girls are in need of a self-determinative approach to their education and to their futures. Positive relationships with mentors allow black girls to understand themselves not through the lens of society's view of them, but as who they really are, and who they want to be.
Project DIVA, engages black women in building a village for young black women and girls in grades 3-12.  Their goal is to teach and model behavior in a safe space to make the girls feel supported during a time when they are questioning every facet of their existence; while giving them the tools to become future leaders and engaged, informed community members.
The mentors at Project DIVA assist girls to make informed choices for their future by coaching in financial literacy, academics and emotional health. Young girls with a long term mentor relationship are supported as they become the adults they want to be.
Project DIVA teaches the importance of community participation and civic engagement, especially on the local level, and that everyone deserves political, social and economic equality.  The girls participate in various community service opportunities throughout the year, showing responsibility for the well-being of others. They build community between the generations and begin to set the foundation for sustainable change.
The success of Project Diva is reflected in these words of the participants:
"At Project DIVA we are more than just another place to go and be with girls my age, we are a true sisterhood reaching for our dreams and accomplishing them!"
"Project DIVA has allowed for me to find out who I really am and what I am capable of accomplishing even though my home life may not be the best."
"I know that I have a support system cheering me on!"
Advancing the Work of our Foremothers
Mary's Pence advocates for women's full equality and participation in all aspects of society by partnering to lift women's voices and expand their opportunities. History has shown that economic and civil justice must be taken up by every generation to advance the work. Mary's Pence grantees, Code/Art and Project DIVA demonstrate that intergenerational relationships are key to lifting up the next generation.
Learn more about the Mary's Pence Grants program.