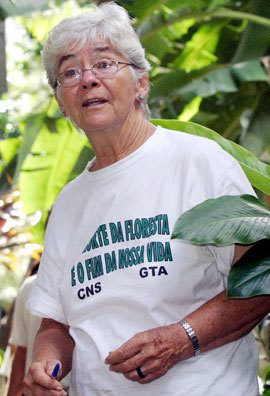 Sr. Dorothy Stang, SND
Advocate for Brazil's Indigenous Poor and the Amazonian Rainforest
An Inspiring Woman Featured in the Mary Pence Women's Calendar
Sr. Dorothy Stang, SND lived and died for the poor and for the environment. Born in the United States, Dorothy became a citizen of Brazil in solidarity with those with those she ministered to. Dorothy encouraged indigenous Brazilians to maintain ways of sustainable agriculture, and harvesting products without causing depletion. She worked to protect poor farmers from the thugs that rich farmers, ranchers, and loggers hired to threaten, harass, physically harm those who opposed land grabbing.
Dorothy was a thorn in the sides of the powerful forces who wished to exploit the rainforest for their own enrichment.  They did not want to hear the truths that Dorothy spoke. They felt that their wealth   and power were threatened, and looked for ways to silence Dorothy. On February 12, 2005 two thugs accosted her while she was on her way to a meeting. They asked if she was armed and she replied that her only protection was the word of God. Dorothy began to read from Matthew's Gospel, the words of the Beatitudes (or blessings). While she was reading they shot her multiple times.
The perpetrators of Dorothy's martyrdom were Rayfran das Neves Sales and Clodoaldo Carlos Batista who were tried and sentenced to long prison sentences. In addition to the actual shooters, Vitalmiro Bastos de Moura, the person who hired the killers was also imprisoned. Mouro wanted to be rid of Dorothy because she had informed authorities that he was illegally starting fires to clear land.
Dorothy commonly wore a t-shirt with this phrase on it, "A Morte da floresta é o fim da nossa vida" which is translated, "The Death of the Forest is the End of Our Lives". Today, this quote carries an intensified meaning because of the environmental existential threat to the Earth.
The Amazon Rainforest is on Fire
Eighty thousand fires were burning in the rainforest in August of 2019.
There are 84% more lands on fire than there were in 2018.
Millions of species make the rainforest their home.
Sixteen thousand species of trees make up the one billion trees in the rainforest.
Fires in the rainforest are almost never started through natural causes.
Fires are used by agricultural interests to clear land for grazing and planting.
Amazonian fires were ignited for human interests.
Farmers and ranchers declared August 10th Fire Day to clear more land.
Increasingly, indigenous Brazilians are pushed off their land by the loggers and ranchers.
For many years, deforestation has been on the decline until a change of government relaxed environmental protections and encouraged the exploitation of the rainforest resources.
This story was written by Kaye Cassidy, Ignatian Volunteer.