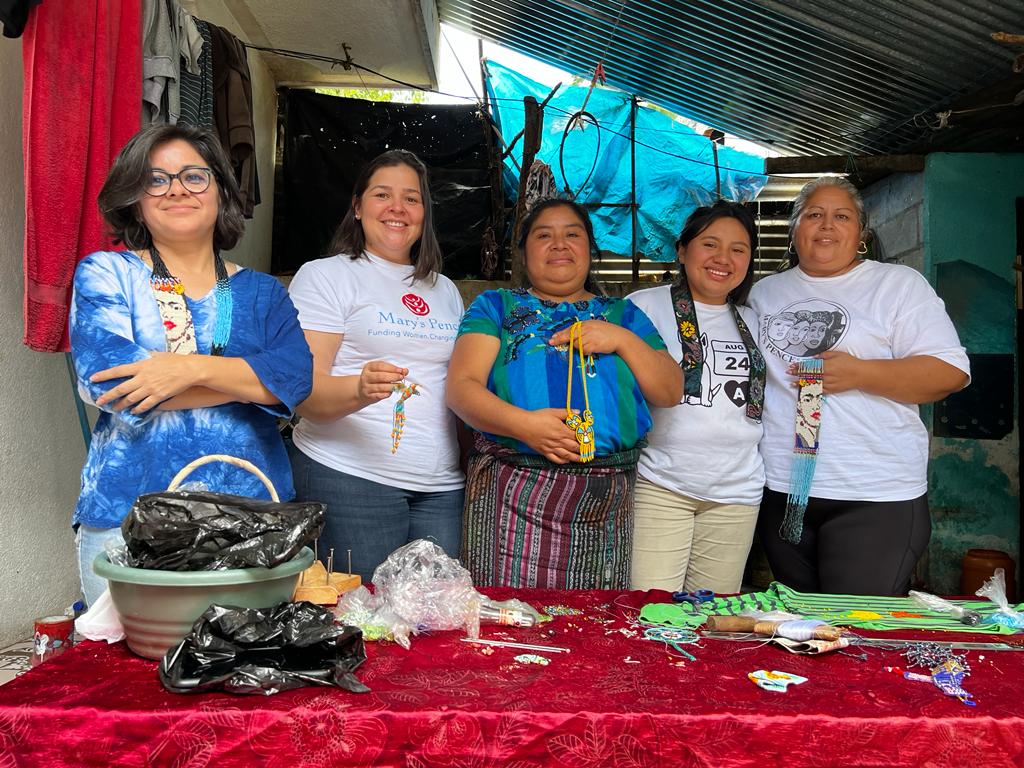 We are excited to announce a significant expansion of our ESPERA program as we welcome four new organizations into our group of partners. After months of dedicated work, evaluations, and conversations, these organizations have joined hands with Mary's Pence to empower women in Honduras and Guatemala.
ESPERA will support these new partners in their work to increase women's economic security and well-being, and organizations will benefit from being part of the broader ESPERA network in Mexico and Central America.
New Groups of ESPERA program
ADISA
Santiago de Atitlán, Guatemala
ADISA, Asociacion de Padres y Amigos de Personas con Discapacidad de Santiago Atitlán, founded in 1998, was initially focused on disabilities. The organization has evolved into a comprehensive organization with a rights-based approach. They bring extensive experience working with women's organizations.
Their mission is to contribute to the empowerment of society, fostering inclusion and independent living for individuals with disabilities and their families. Women are leading in this group, making up over 70% of its members. These women are the primary advocates for their families and communities. They are a well-established organization that works in 9 departments in Guatemala, with a staff of 40 people.
ASCODREMCHI
Chichicastenango, Guatemala
The Asociación de Desarrollo Red de Mujeres Chichicastenango boasts many years of community-based work. They are a non-governmental organization dedicated to promoting the well-being of women and families living in poverty in rural communities around Chichicastenango. They have 200 members, all women, from 13 districts, and their main focus is identifying out-of-school children and working with their parents to encourage them to enroll their children.
The organization gives scholarships for school supplies to children whose families do not have money to pay the minimum school costs. Without this financial support, children may be forced to work, for example, selling trinkets in the market instead of attending school.
ASCODREMCHI also provides training for women on issues such as advocacy, women's rights, nutrition, mental health, and sexuality. Currently, they are distributing food and seeds to families in need.
IXOC MAYAJ
Tactic, Cobán, Guatemala
IXOC MAYAJ advocates for the rights of Indigenous women. Their strong commitment to this cause brings diversity to our ESPERA program. IXOC MAYAJ's primary goal is to improve the living conditions of vulnerable families by fostering the holistic development of Indigenous farming communities and enhancing members' skill sets and capabilities. Their focus areas are food sovereignty, therapy and healing, gender equality, economic development, popular education, and youth.
Grupo de Mujeres Lencas de Chinacla
La Paz, Honduras
This group of Indigenous Lenca women represents small coffee producers, the most important productive sector in Honduras' economy. The Grupo de Mujeres Lencas promotes the improvement of processes considering needs and limitations within the coffee industry, as well as sharing knowledge, new business ideas, and good practices in gender equity and the environment.
Currently, they are working on women's economic empowerment, emphasizing coffee production. Many are local leaders and have replicated the training process on gender issues in their communities.
Strong and Resilient Communities
Mabel, ESPERA program lead, said, "Including these new partner organizations brings new dimensions to our ESPERA program. In Guatemala, it signifies a new approach to organizing and implementing our program, particularly in light of the challenging political context. Close accompaniment and support will be crucial to ensure our shared goals are met."
In Guatemala, Indigenous communities are leading the resistance against a Supreme Electoral Tribunal raid that is trying to undermine the recent presidential election results. Bernardo Arevalo, a center-left sociologist and congressman, emerged as the winner. It is important to note that 60% of the Guatemalan population lives in poverty, and this figure increases to 80% among the Indigenous peoples.
In Honduras, this addition marks the beginning of our work with rural Lenca women; previously, we focused on urban areas. As with the rest of our ESPERA partners, Mary's Pence's contributions and support will include grants for the collective lending pools, which will be administered and managed by the new partner organizations, and grants to support community projects and pay stipends to local leaders for their work. The ESPERA staff also provides emotional wellness workshops and business skills training.
How ESPERA Works
Mary's Pence ESPERA program partners with women's organizations in Central America and Mexico to increase women's economic security and social and emotional well-being. ESPERA works with organized groups of women because we know there is power in mutual support and a collective voice.
Together with our partners, we focus on four areas identified by ESPERA participants as essential components to improving their lives:
Economic Autonomy through Strong Economic Initiatives,
Strong Women's Organizations,
Family Farming, and
Emotional Wellness.
We're grateful for your support. Your commitment has made a significant impact on the lives of women in Central America. As we expand ESPERA, we need your help more than ever. If we work together, we can partner with more women and foster lasting change in their communities.