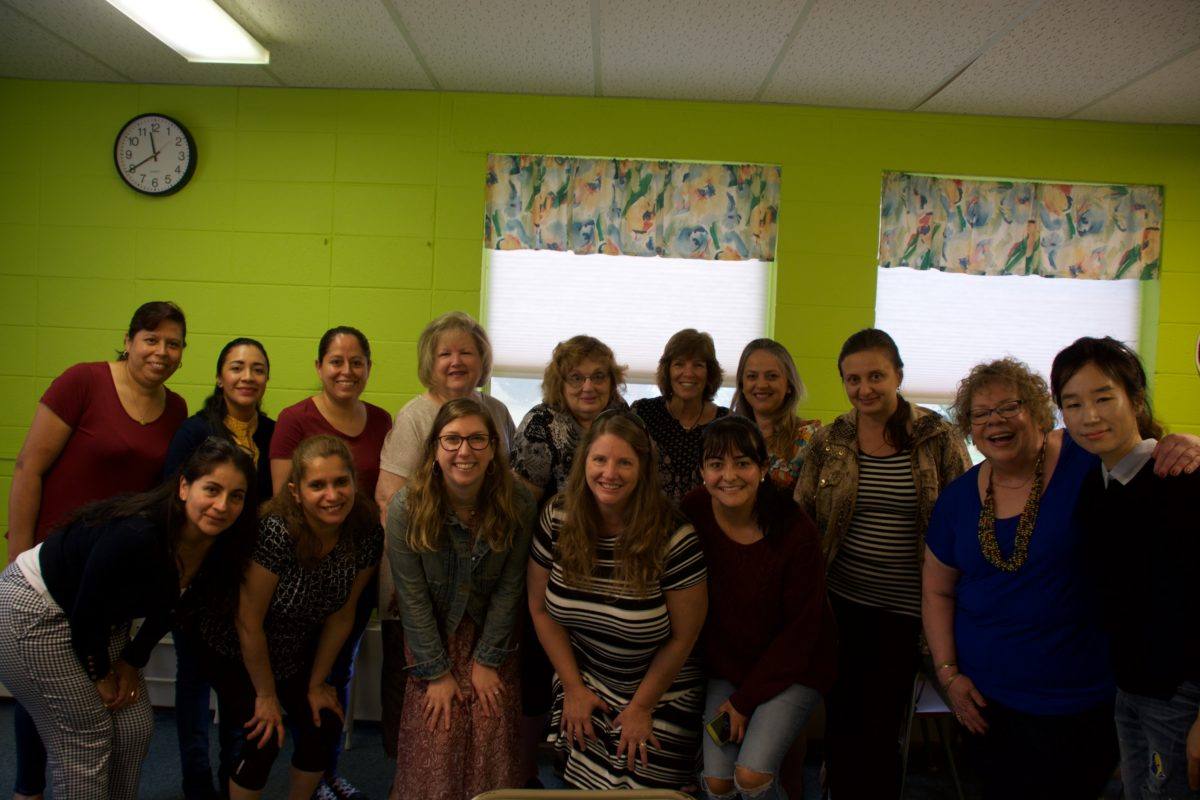 Welcoming the Stranger
"Women have a strength when it comes to finding common ground" says Meg Eubank, Executive Director of Welcoming the Stranger, a two-time Mary's Pence grantee that offers free classes in English as a Second Language (ESL), computer skills, and US Citizenship exam preparation. Approximately 12% of residents in Lower Bucks County and Northeast Philadelphia, Pennsylvania, where Welcoming the Stranger operates, are born outside the United States. Yet, there is only one class for every 12,100 potential students in the area (according to school district and US Census data).
In Fall 2017, Welcoming the Stranger used their Mary's Pence Grant to support a class of all-women students, as most daytime classes at Welcoming the Stranger are. Mary's Pence staff sat in on a class on a Wednesday morning in late October to learn more.
All are Welcome
Welcoming the Stranger holds classes in schools, churches and community centers in neighborhoods that have high populations of immigrants. Many students walk or take the bus, so Welcoming the Stranger strives to find locations that are convenient. Even so, one woman drives 45 minutes to class, because there is nothing like it offered in her community.
Attendance is flexible. Some women take turns watching each other's children so they can attend class. Others whose work shifts vary come mornings one week and evenings the next. To make classes even more accessible, all levels are welcome in each course. Each student can attend at the time and location that works best for them. It's no surprise then, that Welcoming the Stranger does not purchase a curriculum. Instead the teachers and volunteers make each lesson as student-driven as possible.
Welcoming the Stranger has served students from over 100 countries including Ukraine, Brazil, South Korea, Mexico, Peru, Iran, Colombia, and Syria. While some immigrated for better opportunities, many fled difficult or dangers situations, and some spent years in refugee camps before being transferred to the US.
Mothers Motivated by Children's Education
Many students are mothers of children with special needs or medical conditions who immigrated because they didn't have access to services within their own countries. Welcoming the Stranger created focused lessons around navigating the special education system in the local school district, special education terminology, and understanding their child's and family's rights. Teachers from Welcoming the Stranger have attended school meetings at parents' request, help simplify terms into simpler English and model how to participate in these kinds of meetings.
Another primary motivation for learning English expressed by almost every woman in the class was to help their children with homework. Because children are often much more exposed to English through school they often end up learning English quicker and easier than their parents. This can lead to a profound sense of loss for these mothers as they feel they are no longer able to support their children in this way.
Preparing for Work in a New Country
Students who enjoyed professional careers as nurses, pediatricians, teachers or engineers also experience another shift in their identity when they immigrate. Their education and credentials are not recognized here. Those who are legally able to work in the United States have taken roles as nannies and CNAs. Many of the women are attending class so they can improve their English writing skills enough to go back to school and rebuild their careers here in the United States. For others, their husbands work visas prevent them from working entirely.
At the end of class, the teachers shared an upcoming opportunity to practice interview skills and update their resumes with one of Welcoming the Stranger's community partners. Role play is helpful for improving both language and cultural understanding that can increase students' chances of having a successful interview.
Advocating for Immigrant Rights
In addition to the changes in their identities as parents and professionals after coming to the United States, every woman had experiences of discrimination. After the 2016 election students experienced an increase in incidents of racism and harassment as well as fear and stress. Welcoming the Stranger works with students to preserve dignity and autonomy. And many students become advocates on behalf of other immigrants.
Welcoming the Stranger is a founding member of the local Immigrant Rights Action Group which is providing training to immigrant staff in restaurants regarding their rights, fundraising and retaining immigration lawyers for those who need them, and fighting Berks Detention Center, a center that is indefinitely holding immigrant women and children while their deportation hearings and appeals are in progress. Some have been detained for as long as two years.
Recently the police chief of Bensalem Township where Welcoming The Stranger holds three classes applied to be part of the 287g program, an ICE partnership initiative that allows the local police force to act as immigration enforcement agents. The program is expensive and is likely to lead to increased racial profiling and creates fear among immigrants, making it less likely for victims to report crimes because they fear deportation.
Meg explains that "The folks at Welcoming the Stranger hear our students' fears and concerns that they are unwelcome, and we are concerned that if Bensalem Police Department becomes a part of this program, we will see further erosion of trust between immigrants in the community and the police department that is there to serve the community. We have already heard stories of immigrants who are afraid to report crimes because they think the police will in turn target those that reported the crime."
Welcoming the Stranger is asking anyone who is opposed to the 287g program to sign this petition, regardless of where they live. This issue is "bigger than Bensalem."
Building community
Change is being made on a personal scale too. Some of the students and volunteers together have founded coffee meet-ups and book clubs to practice English outside of class. One book club has been meeting for three years, reading books about the immigrant experience and American history. These conversations help immigrants and Americans alike understand their own fears and stereotypes as they experience new cultures. Even texting outside of class serves the dual purpose of practicing writing skills and building connections and relationships.
The Wednesday morning students agreed that their class has become a family. Welcoming the Stranger has created space that's safe for everyone to celebrate strengths, share fears, learn from one another, make mistakes, practice tolerance, and emote in their own language.