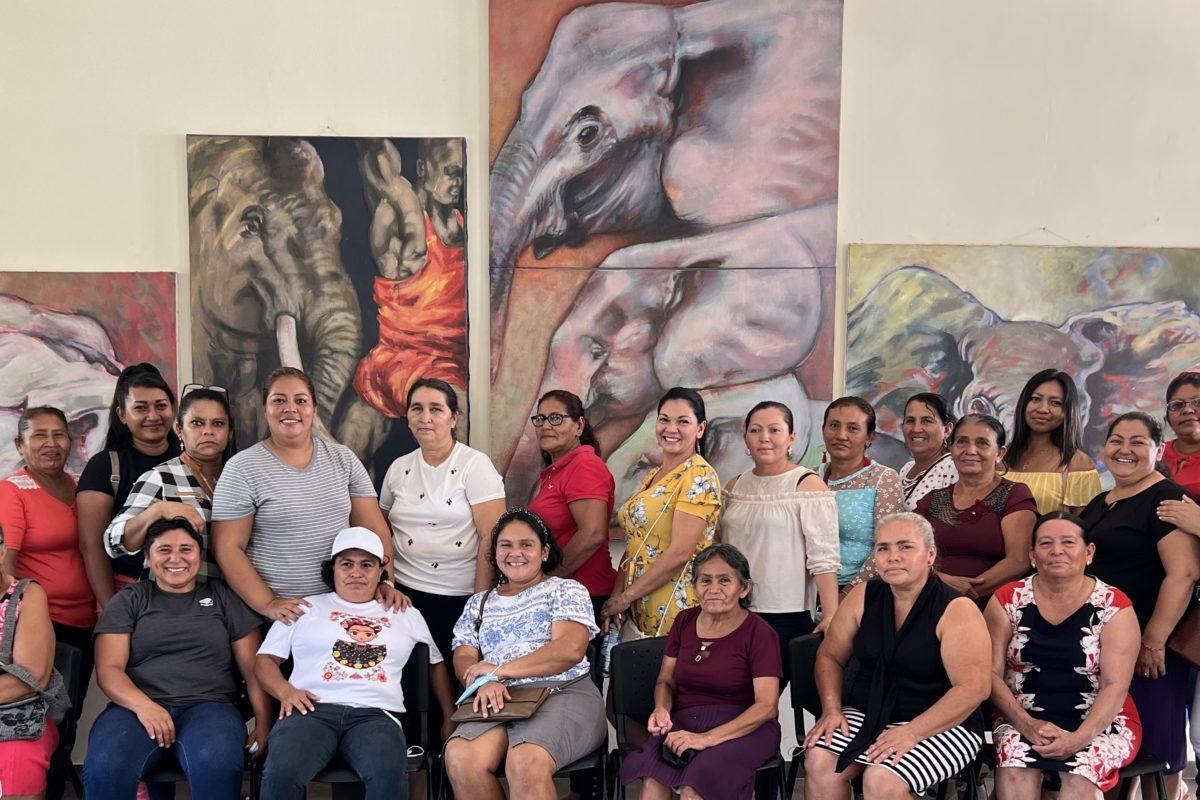 Concertación de Mujeres de Suchitoto
Suchitoto, El Salvador
Strengthening bonds and celebrating progress together.
Members of Mary's Pence's biggest ESPERA partner, Concertación de Mujeres in Suchitoto, El Salvador, participate in an annual meeting. This meeting provides an opportunity for some of the 450 members to come together for a review of what has been accomplished throughout the year. As part of this annual gathering, the women can visit, exchange information, share their progress and challenges, and learn from each other. The meeting was held at Centro Arte Para la Paz, an arts center in Suchitoto run by Sister Peggy O'Neill. The center supports the arts, music, yoga, and other activities.
CALENDAR OF WOMEN – APRIL 2023
1 | Wangari Maathai
(b.4/1/1940 d.9/25/2011)
Wangari Maathai was an internationally renowned Kenyan environmental political activist and Nobel laureate. She was educated in the United States at Mount St. Scholastica (Benedictine College) and the University of Pittsburgh, as well as the University of Nairobi in Kenya. In 1977, Maathai founded the Green Belt Movement, an environmental organization focused on the planting of trees, environment conservation, and women's rights. The first African woman to receive the Nobel Peace Prize (2004) for "her contribution to sustainable development, democracy and peace."
2 | Barbara Caine
(b.4/2/1948)
Barbara Caine is feminist historian from Australia. In 2015 she became the Head of the School of Philosophical and Historical Inquiry at the University of Sydney. She has written extensively on British and Australian women's history, and has written biographies of a number of historical figures. Caine established the first Women's Studies Centre in Australia at the University of Sydney, and oversaw its development into a Department of Women's Studies.
3 | Dorthea Dix
(b.4/4/1802 d.7/18/1887)
Dorothea Dix was an American activist on behalf of the indigent insane who, through a vigorous program of lobbying state legislatures and the United States Congress, created the first generation of American mental asylums. Dorothea was an author, teacher and reformer. Her efforts on behalf of the mentally ill and prisoners helped create dozens of new institutions across the United States and in Europe and changed people's perceptions of these populations. Charged during the American Civil War with the administration of military hospitals, Dix also established a reputation as an advocate for the work of female nurses. Her own troubled family background and impoverished youth served as a galvanizing force throughout her career, although she remained silent on her own biographical details for most of her long, productive life.
4 | Maya Angelou
(b.4/4/1928 d.5/28/2014)
Maya Angelou was an American poet, memoirist, and civil rights activist. She published seven autobiographies, three books of essays, several books of poetry, and was credited with a list of plays, movies, and television shows spanning over 50 years. Maya Angelou's autobiography, I Know Why The Caged Bird Sings, gives a young Black girl a voice, once lost then freed to sing the song of all people.
5 | Pandita Ramabai
(b.4/23/1858 d.4/5/1922)
Pandita Ramabai was a 19th century Indian social reformer, a champion for the emancipation of women, and a pioneer in education. She participated in the freedom movement and was one of the 10 women delegates of the Congress session of 1889. In addressing the education of women she declared with fervor, "In ninety-nine cases out of a hundred the educated men of this country are opposed to female education and the proper position of women. If they observe the slightest fault, they magnify the grain of mustard-seed into a mountain, and try to ruin the character of a woman". Pandita vigorously pursued the rights of Indian women.
6 | Gloria Macapagal Arroyo
(b.4/5/1947)
Gloria Macapagal Arroyo is a Filipina politician who served as the 14th President of the Philippines from 2001 until 2010, as the 10th Vice President of the Philippines from 1998 to 2001, as the incumbent deputy speaker of the 17th Congress and a member of the House of Representatives representing the 2nd District of Pampanga since 2010. She was the country's second female president (after Corazon Aquino), and the daughter of former President Diosdado Macapagal. Arroyo is also the first duly elected female Vice President of the Philippines.
7 | Joyce Banda
(b.4/12/1950)
Joyce Hilda Banda is a Malawian politician who was the President of Malawi from April 7, 2012 to May 31, 2014. She is the founder and leader of the People's Party, created in 2011. Banda took office as President following the sudden death of President Bingu wa Mutharika. She was Malawi's fourth president and its first female president. Before becoming president, she served as the country's first female vice-president.
Banda was a Member of Parliament and Minister for Gender, Children's Affairs and Community Services. Before her active career in politics she was the founder of the Joyce Banda Foundation, founder of the National Association of Business Women (NABW), Young Women Leaders Network and the Hunger Project.
In 2014, Forbes named President Banda as the 40th most powerful woman in the world and the most powerful woman in Africa.
8 | Betty Ford
(b.4/8/1918 d.7/8/2011)
Betty Ford was First Lady of the USA from 1974 to 1977. Despite opposition from conservative Republicans who objected to her more moderate and liberal positions on social issues, Betty maintained high approval ratings. Ford was noted for raising breast cancer awareness following her 1974 mastectomy. In addition, she was a passionate supporter of and activist for the Equal Rights Amendment (ERA). Pro-choice on abortion and a leader in the Women's Movement, she gained fame as one of the most candid first ladies in history, commenting on every hot-button issue of the time, including feminism, equal pay, the ERA, sex, drugs, abortion, and gun control. She also raised awareness of addiction when in the 1970s, she announced her long-running battle with alcoholism and substance abuse. She was the founder of the Betty Ford Clinic for addiction and substance abuse. She was a recipient of the Presidential Medal of Freedom during the George W. Bush administration.
9 | Irene Morgan Kirkaldy
(b.4/9/17 d.8/10/2007)
Irene Morgan Kirkaldy, in July of 1944, made a courageous decision that would turn into one of the first major advancements in the American Civil Rights Movement. A half hour into a bus trip, a white couple boarded the crowded bus and the bus driver, under authority given to him by Jim Crow laws in Virginia, demanded that Kirkaldy give up her seat. Raised by a religious family that discouraged questioning authority, Kirkaldy decided that her rights outweighed her obedience and she refused to give up her seat. The bus driver drove directly to a local jail and a sheriff's deputy boarded the bus and handed her a warrant for her arrest. Kirkaldy tore up the warrant. Kirkaldy's stand against discrimination and segregation landed her in jail. Kirkaldy and her lawyer, Spottswood Robinson III, decided to plead guilty to the charge of resisting arrest but not guilty to violating the Virginia segregation law. Robinson argued that the segregation law violated the interstate commerce clause of the U.S. Constitution. Kirkaldy lost her case, but with the help of the NAACP and Thurgood Marshall, it was brought before the U.S. Supreme Court. Justices heard arguments in Irene Morgan v. Commonwealth of Virginia, and handed down a landmark decision for Civil Rights. On June 3, 1946, they agreed that segregation violated the Constitution's protection of interstate commerce.
10 | Delores Huerta
(b.4/10/1930)
Dolores Huerta is an American labor leader and civil rights activist who was the co-founder of the National Farmworkers Association, which later became the United Farm Workers. Huerta has received numerous awards for her community service and advocacy for workers', immigrants', and women's rights, including the Eugene V. Debs Foundation Outstanding American Award, the United States Presidential Eleanor Roosevelt Award for Human Rights and the Presidential Medal of Freedom. She was inducted in the National Women's Hall of Fame in 1993, the first Latina inductee.
11 | Rosalyn Yalow
(b.7/19/21 d.5/30/2011)
Rosalyn Sussman Yalow was an American medical physicist, and a co-winner of the 1977 Nobel Prize in Physiology or Medicine, for development of the radioimmunoassay technique. This technique can be used to identify hormone-related health problems. Further, RIA can be used to detect many foreign substances in the blood including some cancers. Finally, the technique can be used to measure the effectiveness of dose levels of antibiotics and drugs.
12 | Yom HaShoah
Yom HaShoah is observed as Israel's day of commemoration for the approximately six million Jews who perished in the Holocaust as a result of the actions of Nazi Germany and its allies, and for the Jewish resistance in that period. In Israel, it is a national memorial day. It was inaugurated in 1953.
13 | Julian of Norwich
(b.11/8/1342 d.1416)
Julian of Norwich was an English anchoress and an important Christian mystic and theologian. Her Revelations of Divine Love, written around 1395, is the first book in the English language known to have been written by a woman. Julian was known as a spiritual authority within her community, where she served as a counselor and advisor.
14 | Simone de Beauvoir
(b.1/9/1908 d.4/14/1986)
Simone de Beauvoir was a French writer, intellectual, existentialist philosopher, political activist, feminist and social theorist. De Beauvoir wrote novels, essays, biographies, autobiography and monographs on philosophy, politics and social issues. She was known for her 1949 treatise The Second Sex, a detailed analysis of women's oppression and a foundational tract of contemporary feminism; and for her novels, including She Came to Stay and The Mandarins.
15 | Corrie ten Boom
(b.4/15/1892 d.4/15/1983)
Cornelia "Corrie" ten Boom was born in Haarlem, Netherlands, and grew up in a devoutly religious family. During World War II, she and her family harbored hundreds of Jews to protect them from arrest by Nazi authorities. Betrayed by a fellow Dutch citizen, the entire family was imprisoned. Corrie survived and started a worldwide ministry and later told her story in a book entitled The Hiding Place.
16 | Joan Sawyer
(b.4/17/32 d.12/14/1983)
Joan Sawyer was born in Antrim, Ireland and entered the Missionary Sisters of St. Columban in Belfast. She became an American citizen and earned a degree in social work from Mundelein College in Chicago. In 1977 she transferred to Lima, Peru and worked as a chaplain to the prisoners of Lurigancho Prison. She became known for her fearless kindness to the prisoners and their families. During a prison riot, she and several other sisters were taken hostage. After negotiations, the prisoners and their hostages left the prison and were met with a barrage of bullets from the military.  Sr. Joan and the prisoners were killed while the other hostages escaped.
17 | Jo Ann Gibson Robinson
(b.4/17/2012 d.8/29/1983)
Jo Ann Gibson Robinson received her Ph.D. from Columbia, and began working as a college professor. She was the President of the Women's Political Council in Montgomery, Alabama, a group of African-American activists. They were the ones who initially started the bus boycotts and began the protests for greater civil rights. She helped to organize the first meetings advocating for African Americans to take a bigger stance in resistance and improving their lives and their communities. Robinson chose to stay out of the limelight to protect her job as a professor, but continued to offer quiet leadership, becoming an unsung hero of the Civil Rights Movement.
18 | Augusta Savage
(b.2/29/1892 d.3/26/1962)
Augusta Savage was a Black sculptor associated with the Harlem Renaissance. She was also a teacher and her studio was important to the careers of a rising generation of artists who would become nationally known. She worked for equal rights for Black Americans in the arts.
19 | Betty Greene
(b.1920 d.4/19/1997)
Betty Greene was a member of the Women's Air Force Service Pilots during World War II, a time when many people felt women had no place in the military. Because of a staffing shortage, women were admitted to the Air Force. After proving her capability as a pilot in the service, Betty founded the Christian Airmen's Missionary Fellowship in 1945.
20 | Maria Varela
(b.1940 d.4/21/1981)
Maria Varela, a noted photographer, is recognized as one of the first and few Mexican-Americans to devote herself to supporting the Civil Rights Movement for African-Americans. Having documented the civil rights struggle for the past three decades, Varela's poignant work has been included in museums such as the Smithsonian as well as in books and galleries.
Maria Varela, worked briefly in SNCC's Atlanta headquarters, Varela was assigned to Selma, Alabama to help educate and register Black voters in the "belly of the beast" of the battle for civil rights. Varela soon recognized an urgent problem: the images provided for voter education materials showed only white faces. At first Varela asked various SNCC photographers to shoot new images. But she had a keen eye, and finally one of them asked her: "Why don't you shoot the photos yourself?" She quickly learned, and in Varela's work we see an evolution from utilitarian images, meant exclusively for training materials, to potently composed photos furnishing a sophisticated lens on the dramatic changes underway in 1960s Alabama and Mississippi.
21 | Nina Simone
(b.2/21/1933 d.4/24/2003)
Nina Simone was one of seven children of a poor family in North Carolina. At the age of four, she was recognized as a piano prodigy. She attended the Juilliard School of Music in New York, a feat rarely heard of for Black women, and began recording music in the late 1950s. She sang jazz, protest songs, blues, show tunes, African tribal chants, and original songs. Simone was deeply involved in the Civil Rights Movement and was associated with radicals like Malcolm X and the Black playwright Lorraine Hansberry. Many of her songs were used as civil rights anthems and therefore were rarely played on the radio. Known as 'The High Priestess of Soul', she made it her mission to bring social and political causes to the attention of her fans.
22 | Loretta C. Argrett
(b.10/7/1937)
Loretta Argrett became the first Black staff member of the US Congress Joint Committee on Taxation. In 1993, she became the highest-ranking Black woman in the history of the Department of Justice when she was confirmed as Assistant US Attorney General. Before she left the Department of Justice in 2000, Argrett received several awards and commendations, including the prestigious Edmund J Randolph Award. A member of the bar for nearly twenty-five years, Loretta Argrett was a partner at a Washington law firm before returning to the Harvard School of Law as a professor of Law.
23 | Maria Teresa Tula
(b.4/23/1951)
María Teresa Tula is a Salvadoran political writer and activist associated with the group COMADRES. This group supports those who have been subjected to forced disappearance or political assassination in El Salvador.
24 | Willa Cather
(b.12/7/1893 d.4/24/1947)
Willa Sibert Cather was an American writer who achieved recognition for her novels of frontier life on the Great Plains, including O Pioneers!, The Song of the Lark, and My Ántonia. Cather was awarded the Pulitzer Prize for her World War I novel, One of Ours.
25 | Martha George
(b.4/28/1892 d.1/7/1987)
Martha George was repeatedly elected chairperson of the Suquamish tribe, serving from the late 1920s to the early 1940s. She was a descendant of Chief Seattle in present-day Washington State. Martha George was a famous basket weaver.
26 | Amy Biehl
(b.4/26/1967 d. 8/25/1993)
Amy Elizabeth Biehl was a student at the University of the Western Cape in Cape Town as a scholar in the Fulbright Program. She was an Anti-Apartheid activist who was murdered by Black Cape Town residents while a Black mob shouted anti-white slurs. The attack on the car driven by her was one of many incidents of general lawlessness on the road that afternoon. Bands of Black youths threw stones at delivery vehicles and cars driven by white people. One delivery vehicle was toppled over and set alight, and only the arrival of the police prevented more damage. Her killers were eventually pardoned by the Truth and Reconciliation Commission. Amy's parents supported this decision.
27 | Mary Wollstonecraft
(b.4/27/1759 d.9/10/1797)
Mary Wollstonecraft was an English writer, philosopher, and advocate of women's rights. During her brief career, she wrote novels, treatises, a travel narrative, a history of the French Revolution, a conduct book, and a children's book. Wollstonecraft is best known for A Vindication of the Rights of Woman (1792), in which she argues that women are not naturally inferior to men, but appear to be only because they lack education.
28 | St. Catherine of Siena
(b.3/25/1347 d.4/29/1830)
St. Catherine of Siena was a tertiary of the Dominican Order, a Scholastic philosopher, mystic and theologian. She worked to bring the papacy of Gregory XI back to Rome from its displacement in France and to establish peace among the Italian city-states.
29 | The Wise Women of Mary's Pence
Mary's Pence founder, Maureen Gallagher, OP, describes a mystical experience she had while cleaning her house. As she vacuumed, she prayed out her frustration, imagining all the bishops and cardinals who refused to help women in ministry standing before God. Each one was asked by God "Why did you do nothing to help women minister?" and then they were banished. Then Maureen found herself before God, who asked, "What did you do to help women minister?" Maureen said, "I'm a woman, I couldn't do anything." God asked again, "What did you do?" Maureen then knew Mary's Pence needed to be formed and that she would be the one to do it.
30 | Aviva Chomsky
(b.4/20/1957)
Aviva Chomsky is professor of history and coordinator of Latin American studies at Salem State University in Massachusetts. Her most recent book is Undocumented: How Immigration Became Illegal. Between 1976 and 1977, Chomsky worked for the United Farm Workers union. She credited this experience with sparking her "interest in the Spanish language, in migrant workers and immigration, in labor history, in social movements and labor organizing, in multinationals and their workers, in how global economic forces affect individuals, and how people collectively organize for social change".[1] At the University of California at Berkeley, she obtained a B.A. in Spanish and Portuguese in 1982, an M.A. in history in 1985, and a Ph.D. in history in 1990. She began teaching at Bates College, and became an associate professor of history at Salem State College in 1997, the Coordinator of Latin American Studies in 1999, and a full professor in 2002.