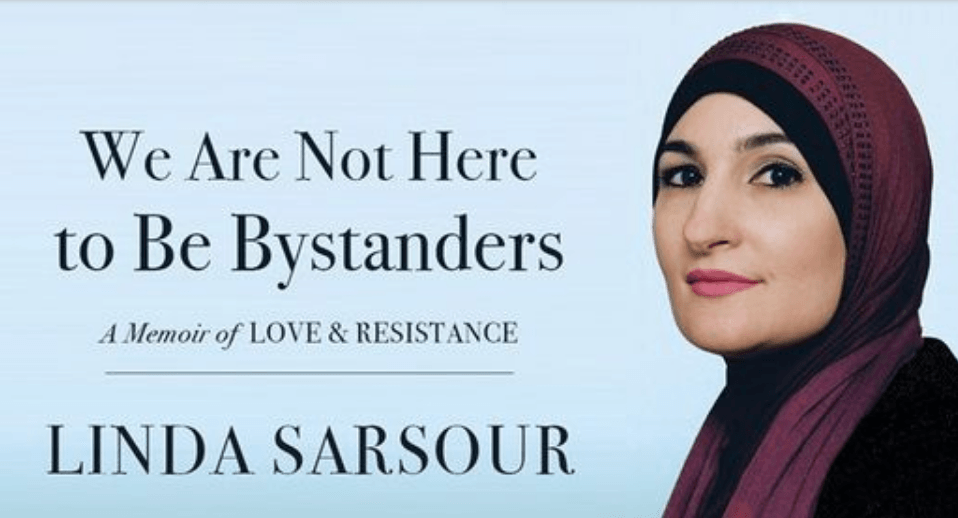 The following book review of We Are Not Here to Be Bystanders: A Memoir of Love and Resistance is written by Mary's Pence Executive Director Katherine Wojtan. The book will be discussed at our November 10th book discussion on Zoom. Visit us online for more information about joining the conversation.
I am grateful for brave and committed women working for justice, especially those that take risks to make the world a better place. Linda Sarsour is definitely one of those women. 
Linda is a Palestinian Muslim and grew up in Brooklyn.  She followed the lead of her beloved Aunt Basemah into community work. Her skills and spirit opened doors for more involvement and bigger roles. As a result of Linda's work she has experienced threats and been under surveillance, she has struggled to balance family and activism, and she has faced fears and formed an intense community.
For me, it was specially moving to read the experience of Muslims in New York City after 9-11.  The shift is visceral immediately after the attack; as Linda says, "we had all been transformed from ordinary, everyday New Yorkers who happened to worship as Muslims to a suspect class." The requirement for many noncitizen Muslims to register with the government, the attempts to infiltrate Muslim organizations, and the creation of watchlists of community organizers (including Linda) created widespread fear in the community; the reality is sobering. 
Linda's involvement in the Women's March as national co-chair in 2017, following the election of President Trump, is inspiring and disconcerting at the same time.  The work of the team organizing the event is amazing.  It took tremendous effort, at lightning speed, to make it happen, and its impact was felt across the country and the world.  The inside story of how the event became multiracial and intersectional highlights the struggles of coming together and the urgency that our movements maintain going forward. 
The account of Linda's work is wrapped up in stories of family, motherhood, and community. I found her book to be inspiring; it calls us to action for a better world, out of love.