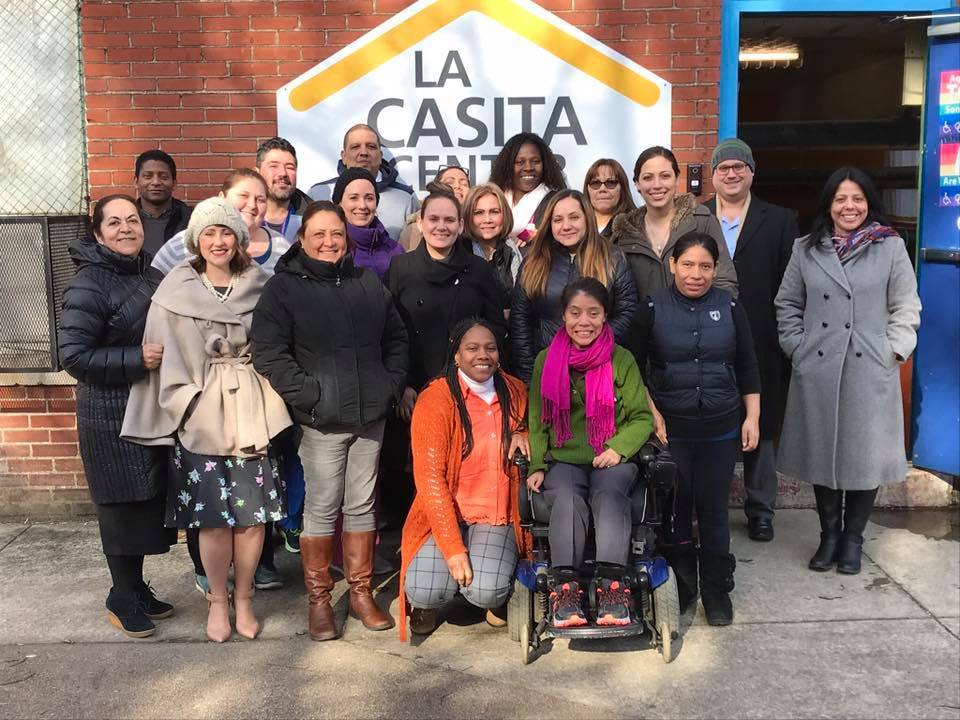 About the featured image:
La Casita Center
Louisville, Kentucky
Latina Teens Project
Newly arrived immigrant families are some of the most vulnerable in society. La Casita Center works in solidarity with these families. They provide the immediate necessities of food, shelter and healthcare, as well as a foundation for systemic change through education and advocacy.
Young Latina women are disproportionally affected by the violence, sexual abuse and racism routinely experienced by immigrants. Through education and mentorship, The Latina Teens Project, supported by Mary's Pence, empowers young women to develop a positive self-image, create healthy relationships and celebrate their culture. Graduates of the Latina Teens Project become adults equipped to advocate for systemic change and resist the misogyny and racism endemic in our society.
1 | Rosa Parks
(b. 2/4/1914 d.10/24/2005)
When Rosa Louise McCauley Parks initiated the Montgomery Bus Boycott, she had already been involved in the National Association for the Advancement of Colored People (NAACP) for over a decade. Her refusal to give up a bus seat for a white passenger was also far from her last civil rights action, as she continued to work for the end of inequality in her later homes of Hampton, Virginia and Detroit, Michigan.
2 | Jean Donovan, Maura Clark, M.M., Dorothy Kazel O.S.U., Ita Ford, M.M.
(b. Jean 4/10/1953, Maura 1/13/1931, Dorothy 6/30/1939, Ita 4/23/1940 d. 12/2/1980)
These four U.S.-born missionaries, three of whom were women religious, worked with peasant farmers for several months before being abducted and executed as subversives by the National Guard of El Salvador on December 2nd, 1980.
3 | Patsy Mink
(b. 12/6/1927 d. 9/28/2002)
Patsy Mink was the first non-white woman and first Asian American woman elected to United States Congress and a co-author of Title IX. Born in Hawaii to second-generation Japanese immigrants, she attended law school in Chicago, where she met her husband John. Returning to Hawaii, she found that she couldn't find work as a lawyer due to gender and racial discrimination. Instead, Mink chose to go into politics. The first office she held was territorial, but after Hawaii was declared a state, Mink advanced to the national level.
4 | Edith Cavell
(b. 12/4/1865 d. 10/12/1915)
Edith Cavell began her nursing career after caring for her father, a vicar in the Anglican Church, during his last years. By 1907, she was so respected as a nurse that she was asked to be the head of a new nursing school in Belgium. When the First World War broke out and Belgium was occupied by Germany, Cavell, guided by her faith, treated all wounded regardless of nationality. She also helped Allied soldiers escape the country, for which she was executed.
5 | Alabama Bus Boycott
(began 12/5/1955, ended 12/20/1956)
The Montgomery, Alabama Bus Boycott is considered by some to be the first large-scale demonstration against Jim Crow Laws. Whether or not this is the case, it was a huge success—not one Black resident of Montgomery stepped foot on a bus for 380 days. The Boycott resulted in the U.S. Supreme Court ordering the desegregation of public transportation, and also helped to establish the leading role of the Southern Christian Leadership Conference (SCLC) in the civil rights movement.
6 |Sr. Elizabeth Johnson, CSJ
(b. 12/6/1941)
Sr. Elizabeth Johnson is an esteemed feminist Catholic theologian. She is currently a Professor Emerita of Theology at Fordham. In her book, She Who Is: The Mystery of God in Feminist Theological Discourse (1991) Johnson famously argued that God, as a spirit, has no gender. She has consistently expanded the ways in which Catholics think and speak about God — at times, outside of the boundaries set by church hierarchy, as when her Quest for the Living God (2007) was criticized by the U.S. Conference of Catholic Bishops.
7 | Cynthia Maung
(b. 12/6/1959)
Born and educated in Burma, Dr. Cynthia Maung had to flee to the Thai border when the military seized power of her country in 1988. After reaching safety, Maung immediately began to treat the many others seeking refuge from the violence in Burma. A year later, Maung founded the Mae Tao Clinic, which continues to provide free healthcare to migrants and displaced persons. 400-500 people come to the clinic every day.
8 | Sr. Mary Aloysie Hardey
(b. 12/8/1809 d. 6/17/1886)
Sr. Mary Aloysie Hardey opened the first convent and school of the Society of the Sacred Heart on the east coast in 1840. She greatly expanded the number of houses in North America and in 1871 was appointed Assistant General for the Society of the Sacred Heart and moved to Paris. Hardey had a key role in reforming the Sacred Heart curriculum to include higher education.
9 | Ruby Dee
(b. 10/27/1922 d. 6/11/2014)
Ruby Dee was an American actress and activist. Raised in Harlem, she attended Hunter College before meeting and marrying her husband Ossie Davis in 1948. Dee was nominated for eight Emmy Awards over the course of her long career, which spanned both stage and screen. She and her husband were also awarded the National Medal of Arts and the Kennedy Center Honors. Both were active in the Civil Rights Movement, and Dee served as master of ceremonies for the 1963 March on Washington for Jobs and Freedom.
10 | Emily Dickinson
(b. 12/10/1830 d. 5/15/1886)
Only a handful of Emily Dickinson's 1,800 poems were published in her lifetime and even then were usually heavily edited. Her short lines and slant rhyme didn't follow the poetic standards of her time and often dealt with the themes of death and immortality. Dickinson lived much of her life in reclusive isolation in Amherst, Massachusetts.
11  |Marie-Marguerite d'Youville
(b. 10/15/1701 d. 12/23/1771)
Saint Marguerite d'Youville was a French Canadian widow who founded the religious order the Order of Sisters of Charity of Montreal in 1737. The order, commonly known as the Grey Nuns of Montreal, serves the poor and fights for their rights.
12 | Our Lady of Guadalupe
When the Spanish completed their conquest of Mexico, they destroyed a temple outside of Mexico City that had been dedicated to the goddess Tonantzin, known as the "Beloved Mother of the Gods," and built a chapel dedicated to the Virgin Mary over it. It was at this site that the indigenous peasant Juan Diego saw apparitions of a mixed-race woman who identified herself as the Blessed Virgin, speaking to him in the local Nahuatl tongue. When Juan Diego tried to report his vision to the bishop, the latter demanded physical proof. The Virgin instructed Juan Diego to gather up roses (not native to the region) in his cloak and bring it to the bishop; when it was unfurled, it revealed the famous image. Catholic authorities were strongly divided as to whether or not the miracle was legitimate or was simply a false idol created by a sensational cult, as the bishop in question left no written record of the event. Nonetheless, popular devotion to Our Lady of Guadalupe was so strong that they were powerless to prevent it. Even today, her shrine is the most visited Catholic pilgrimage site in the world and she has been known variously as the Empress, Mother, or Patroness of the Americas.
13 | Ella Baker
(b. 12/13/1903 d. 12/13/1986)
Ella Baker grew up in North Carolina listening to her grandmother tell stories about her life under slavery. Perhaps for this reason, she moved to New York City and began working with activist organizations after graduating from Shaw University in 1927. In 1930, Baker joined the Young Negroes Cooperative League, which promoted economic equality for all. In 1940 she joined the NAACP, and in 1955 co-founded In Friendship to raise funds to fight Jim Crow laws. In 1957, Baker moved to Atlanta to assist with the SCLC, then founded the Student Nonviolence Coordinating Committee (SNCC), which joined with the Congress of Racial Equality to organize the 1961 Freedom Rides. The SNCC was also heavily involved in the educational campaigns of the 1964 Freedom Summer.
14 | Catherine de Hueck Doherty
(b. 8/15/1896 d. 12/14/1985)
Catherine de Hueck Doherty was born into an aristocratic Russian family and married off at age 15 to her first cousin. During WW1, she became a Red Cross nurse on the front lines. After the war, she and her husband escaped to England, which is where she became Catholic. The couple moved to the U.S., where de Hueck gave up all her possessions and established Friendship House, an interracial charity center. Upon retiring in 1947, she continued serving her community and founded the Madonna House apostate.
15 | Senal Sarihan
b. 2/17/1948)
Senal Sarihan is a Turkish human rights lawyer who has been imprisoned several times for her "anti-state" writings. She earned her degree in 1976, and ten years later founded the Contemporary Lawyers Association. In 1996, she founded the Contemporary Women's Association to advocate for women's rights, for which she won the Robert F Kennedy Human Rights Award in 1997.
16 | Margaret Mead
(b. 12/16/1901 d. 11/15/1978)
Margaret Mead was a cultural anthropologist whose work on sexual mores in traditional Southeast Asian and South Pacific cultures influenced the sexual revolution of the 1960s. She earned her PhD from Columbia University in 1929. She was curator of ethnology at the American Museum of Natural History from 1946 to 1969, during which period she also taught at The New School and her alma mater. In addition, Mead was a professor of anthropology at Fordham University and the University of Rhode Island.
17 | Amy Carmichael   
(b. 12/16/1867 d. 1/18/1951)
Amy Beatrice Carmichael was a Protestant missionary in India born in Ireland. Her family founded the Welcome Evangelical Church in the mid-1880s, where Carmichael taught Sunday school until 1889, when she went to work with the mill girls of Manchester. From there, she moved on to missionary work. Her primary work was with children, particularly young girls, who had been sold into prostitution.
18 | Clara Hale
(b. 4/1/1905 d. 12/18/1992)
Clara Hale founded the Hale House Center, a home for unwanted babies and babies born addicted to drugs, after opening up her own home to be a daycare in order to make a living. In the 1940s, she provided short- and long-term care for children, taught parenting skills, found permanent homes for homeless children and became a licensed foster mother. Hale began working with addicted children in 1969, at the age of 65. She also created a number of educational programs.
19 | Sacagawea
(b. ~1788 d. ~1812)
Sacagawea was the daughter of a Shoshone chief who was captured by the Hidatsa, an enemy tribe, at the age of 12. She was subsequently sold to a French-Canadian trapper to be his wife. In 1804, the Lewis and Clark Expedition hired her husband on as an interpreter; Sacagawea was also hired on to the expedition despite being pregnant. She was an invaluable help to the journey, especially as a diplomat and as an expert in finding edible plants.
20 | Madam C.J. Walker 
(b. 12/23/1867 d. 5/25/1919)
Born Sarah Breedlove in Louisiana, Madam Walker moved to St Louis after the death of her first husband, where she worked as a laundress and cook. In 1904, she began selling hair products for African American women. The following year, she moved to Denver, re-married, and launched her own line of hair products. Walker advocated for black women's economic autonomy by training her sales agents and was a great philanthropist as well as an important patron of the arts.
21 | Emma Tenayuca
(b. 12/21/1916 d. 7/23/1999)
Emma Tenayuca was a Mexican-American labor leader and educator. She was first arrested at age 16 when she joined a picket line of striking cigar workers and went on to found two international women's garment workers unions. In 1938 she married fellow organizer Homer Bartchy, then divorced him three years later and pursued her bachellor's in education at San Francisco State College. Upon receiving her degree, Tenayuca taught until her retirement in 1982.
22 | St. Frances Cabrini
(b. 7/15/1850 d. 12/22/1917)
Francis Xavier Cabrini, also called Mother Cabrini, was an Italian-American nun who ministered to Italian immigrants to the U.S. In 1880, while still in Italy, she founded the Missionary Sisters of the Sacred Heart of Jesus, which took in orphans and established a free school and nursery. In 1889, Cabrini immigrated to New York City where she again founded an orphanage and provided education for Italian immigrants. She and her order founded hospitals in New York and Chicago, with a total of 67 institutions spread throughout the U.S.
23 | Sr. Mary Antoinette, DW
(b. 1912 d. 11/19/1964)
Mary Antoinette became a Daughter of Wisdom in 1939, when she was 27. She then taught science, Latin, religion and algebra for a time before beginning her ministry as a missionary. Antoinette was first in Malawi, then the Belgian (presently, Democratic Republic of) Congo. She was imprisoned and beaten to death there in 1964.
24 | Hortense Powdermaker
(b. 12/24/1900 d. 6/16/1970)
Hortense Powermaker was an American anthropologist. After graduating from Goucher College in 1921, she worked with the Amalgamated Clothing Workers until becoming discouraged at the potential of the U.S. labor movement. Powermaker went to study at the London School of Economics, where she completed her PhD in anthropology, doing fieldwork in Papua New Guinea. She went on to found the departments of Anthropology and Sociology at Queens College, where she worked for three decades.
25 | Mary Gives Birth to Jesus
26 | Our Lady of Chiquinquirá
Our Lady of Chiquinquirá is the name given to a venerated image of the Blessed Virgin associated with the northern Andes. The portrait was painted in 1560 by a Spanish painter and quickly became badly damaged until a miraculous restoration took place on December 26, 1586. She is considered the patron of Colombia.
27 | Eve Ensler
(b. 5/25/1953)
Eve Ensler is a playwright and feminist activist most famous for writing The Vagina Monologues (1996), which has been translated into 48 languages and performed in over 140 countries. In 1998, Ensler created V-Day, a worldwide activist movement that raises funds to stop violence against women and girls through benefit productions of The Vagina Monologues. The movement has raised over $100 million.
28 | Arundhati Roy
(b. 11/24/1961)
Arundhati Roy is an Indian human rights and environmental activist as well as the author of the novel The God of Small Things (1997). She studied architecture and in 1984 met the independent filmmaker Pradip Krishen. The two married and collaborated on several projects before eventually separating. After publishing The God of Small Things, Roy has written on political and social causes, speaking out against neo-imperialism and U.S. foreign policy.
29 | Sr. Thea Bowman
(b. 12/29/1937 d. 3/30/1990)
Thea Bowman was raised in a Methodist home but converted to Catholicism at the age of nine, later joining the Franciscan Sisters of Perpetual Adoration as its only African-American member. She taught elementary and high school as well as helping to produce an African American Catholic hymnal. Later in her career, Bowman was a popular speaker on race, faith and spirituality. She also helped to found the National Black Sisters Conference, which provides support for African-American women religious.
30 | Remember Families Living in Poverty
31 | Sr Marie Neal, SND
(b. 6/21/1921 d. 2/25/2004)
Marie Neal entered the Sisters of Notre Dame Congregation in 1943, a year after graduating for Emmanuel College. She taught high school, and later at her alma mater, going on to receive her doctorate from Harvard University in 1963. Two years later, Neal became the director of the research committee of t he Conference of Major Superiors of Women's Institutes (CMSW) and conducted a study of the resources of nuns in the U.S. following Vatican II.