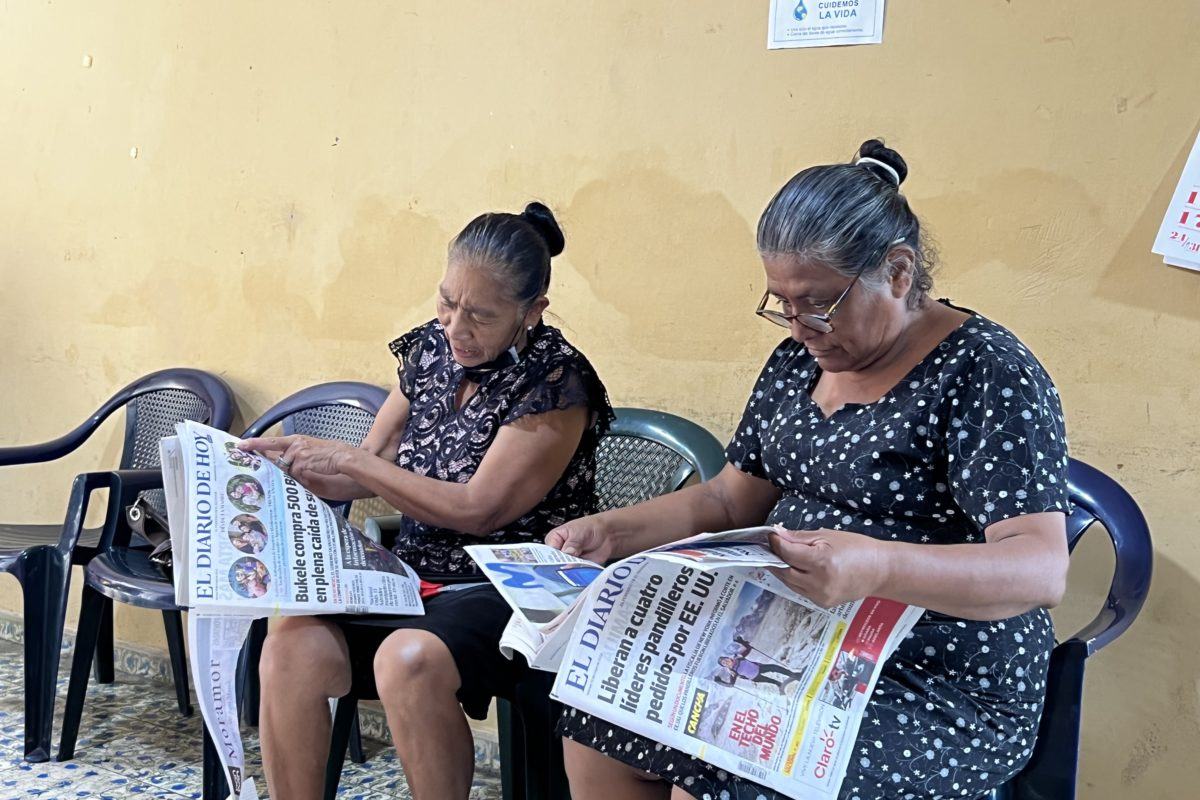 Women learning how valuable their work is.
San Rafael Cedros, El Salvador
Located in San Rafael, El Salvador, Asociación de Mujeres Emprendedoras por la Justicia is an association of women entrepreneurs seeking personal and economic equality for women. Cristina (on the right) became a member in March of 2022. She makes aprons and other garments for the kitchen.
A recent workshop was held for this group on the topic of food sovereignty and security. As part of the workshop, Christina and her friend María are perusing ads in newspapers to think about what products they produce and the source and cost of other products they consume.
Calendar of Women – February 2023
1 | The Guna
The Guna are an indigenous people of Panama and Colombia. Traditionally, Guna families are matrilinear, with the groom moving to become part of the bride's family. The groom takes the last name of the bride as well. The Guna Peoples' traditional way of life is now threatened by rising sea levels. The small Caribbean Islands they have inhabited for generations, after malaria carrying mosquitos forced them to leave mainland Panama, will soon become inhabitable. The Guna are having to consider relocation on the mainland, an environment that they are unfamiliar with that will require significant lifestyle changes.
2 | Civil Rights Sit-ins Begin in Greensboro, NC in 1960
Historically Black colleges: Bennett, a private all female college, and NC A&T was a public coed institution. Originally, the publicity for this movement focused on the first four males who participated, but increasingly something vital changed in the protesting that occurred in Greensboro— the women of Bennett College got involved. Linda Beatrice Brown documented the efforts and percentages of participation by Bennett College for the first time years after the protests ended. In fact, during the peak of the sit-ins "as much as 40 percent of Bennett College's student body was in the local jail, and they accounted for more than half the students being held at that time in the city,"
3 | Sr. Mary Elizabeth Lange
(b.1784 d.1882)
Sr. Mary Elizabeth Lange was a native of what is now Haiti, Elizabeth was part of a mass exodus from the Santo Domingo uprising in 1791. She established the first Black, Catholic school in 1828 in Baltimore where, although it was legal to educate Blacks, no public schooling was available. On July 2, 1828, she and three other Black women (including Theresa Maxis Duchemin) met in a row house in Baltimore to pronounce simple vows.
4 | Betty Friedan
(b.2/4/21 d.2/4/2006)
Betty Friedan was an American writer, activist, and feminist. A leading figure in the women's movement in the United States, her 1963 book The Feminine Mystique is often credited with sparking the second wave of American feminism in the 20th century. In 1966, Friedan co-founded and was elected the first president of the National Organization for Women (NOW), which aimed to bring women "into the mainstream of American society now [in] fully equal partnership with men."
5 | Judith Francisca Baca
(b.9/20/1946)
Judith Francisca Baca is a Latina  artist, activist, and University of California, Los Angeles professor of Chicana/o Studies in the School of Social Sciences and a professor of World Arts. Baca is a muralist, dedicated to making art accessible to all, not just those who frequent galleries. Baca's first major work was the Great Wall of Los Angeles. She was hired by the United States Army Corps of Engineers to help improve the area around a San Fernando Valley flood control channel called the Tujunga Wash. It's essentially a ditch that contains a large concrete retaining wall. Her idea for a mural was to paint a history of the city of Los Angeles, but not the version found in history books. The events that were overlooked were the ones that interested her. "It was an excellent place to bring youth of varied ethnic backgrounds from all over the city to work on an alternate view of the history of the U.S. which included people of color who had been left out of American history books." Baca also said the defining metaphor of the mural would be that "It is a tattoo on the scar where the river once ran."
6 | Tullia d'Aragona
(b.1510 d.1556)
Tullia d'Aragona was raised to be an Italian courtesan. Trained in music and literature, she was known as a poet, author, and philosopher. After traveling throughout Italy and gaining a reputation as a woman of wit and great intelligence, she wrote Dialogue on the Infinity of Love, the first book on the subject of the morality of love written by a woman. She wrote that love is linked to the better treatment of women and upheld the ideals of freedom of thought, speech, and equality for women and men.
7 | Marion Anderson
(b.2/27/1897 d.4/8/1993)
Marion Anderson was one of the most celebrated performers of the 20th century. She became an important figure in the struggle for Black artists to overcome racial prejudice in the United States during the mid-twentieth century. In 1939, the Daughters of the American Revolution (DAR) refused permission for Anderson to sing to an integrated audience in Constitution Hall. The incident placed Anderson into the spotlight of the international community on a level unusual for a classical musician. Anderson worked for several years as a delegate to the United Nations Human Rights Committee and as a "goodwill ambassadress" for the United States Department of State, giving concerts all over the world. She participated in the civil rights movement in the 1960s, singing at the March on Washington for Jobs and Freedom in 1963. The recipient of numerous awards and honors, Anderson was awarded the Presidential Medal of Freedom in 1963, the Kennedy Center Honors in 1978, the National Medal of Arts in 1986, and a Grammy Lifetime Achievement Award in 1991.
8 | Sr. Josephine Bakhita
(b.1869 d.2/8/1947)
Sr. Josephine Bakhita, was kidnapped in Sudan as a child and sold into slavery. She had several owners and was horribly mistreated.  She was bought by an Italian consul, Callisto Legnani, who treated her with love and respect. She followed the consul to Italy when the political situation forced him to leave Sudan and was given to the family of Augusto Michieli who entrusted her to the care of the Canossian Sisters of the Institute of Catechumens in Venice. She was baptized as Josephine on January 9, 1890 and in 1896 became a Daughter of Charity. She was called Mother Moretta, "Our Black Mother."
9 | Alice Walker
(b.2/9/1944)
Alice Walker is an American novelist, short story writer, poet, and activist. She wrote the critically acclaimed novel The Color Purple for which she won the National Book Award and the Pulitzer Prize for Fiction.
10 | St. Scholastica
(b.480 d.543)
Saint Scholastica is remembered as the founder of a religious order for women. The Order followed the Rule of St. Benedict, Scholastica's twin brother.
11 | Mokarrrameh Ghanbari
(b.1928 d.10/24/2005)
Mokarrameh Ghanbari was born in the village of Darikandeh between Qaem Shahr and Babol, in Mazandaran. She began painting at the age of 63 using bright, original colors inspired by natural surroundings. She had her first showing in 1995 in Tehran. In 2001, she was awarded an honorary certificate at the Conference of the Foundation of Iranian Women's Studies in Stockholm. She was named "Female Painter of 2001".
12 | Sr. Margaret Traxler
(b.3/11/24 d.2/12/2002)
Sr. Margaret Traxler, SSND is a. founding member of the  board of  Mary's Pence. She was an educator and longtime human rights and social justice advocate. In the early 1980s, Margaret founded Maria Shelter and Casa Notre Dame in Chicago to provide safe housing, educational instruction, and job skill training for women recently released from prison. She also established numerous nationally acclaimed educational programs including Cabrini Schools in Chicago, Project Bridge in Cleveland, and Choice, which placed teachers with doctorates in African American colleges to enable the college's faculty time for further study. The United Negro Colleges granted her an honorary doctorate of law for this service.
13 | Rana Husseini
(b.1969)
Rana Husseini is an award-winning journalist and human rights activist who, from her home base in Jordan, has been instrumental in bringing the issue of honor crimes against women to public attention and for securing changes to the law in Jordan to bring stronger penalties for crimes of these types. (An honor killing or a shame killing[ is the homicide of a member of a family, due to the perpetrators' belief that the victim has brought shame or dishonor upon the family, or has violated the principles of a community or a religion, usually for reasons such as refusing to enter an arranged marriage, being in a relationship that is disapproved by their family, having sex outside marriage, becoming the victim of rape, dressing in ways which are deemed inappropriate, engaging in non-heterosexual relations or renouncing a faith).[ She is a senior reporter at the Jordan Times and an advisor to the U.S. government funded human rights organization, Freedom House.  In 2009, her book Murder in the Name of Honour was published.
14 | Ruchira Gupta
(b.1/7/64)
Ruchira Gupta, a well-known journalist and social worker, was on assignment in Nepal in 1994. She realized that there were very few young women and girls around, and began asking questions. Eventually, Ruchira followed their trail to the brothels of Mumbai in India, to where young women some no older than seven. Many of the women and girls had been sold into sexual slavery, or tricked by offers of jobs or marriage. After months of research, she began to film the documentary, "The Selling of Innocents"
15 | Susan B. Anthony
(b.2/15/1820 d.3/13/1906)
Susan B. Anthony developed a sense of justice and moral zeal early in life. After teaching for fifteen years, she became active in the Temperance Movement. Because she was a woman, she was not allowed to speak at Temperance rallies.  This experience, and her acquaintance with Elizabeth Cady Stanton, led her to join the women's rights movement in 1852. Soon after, she dedicated her life to women's suffrage, ignoring opposition and abuse.
16 | Mildred Fish Harnack
(b.9/8/02 d.2/16/1943)
Mildred Fish Harnack was the only US woman executed for treason during World War II by Hitler's order. She was a Milwaukee native who, along with her German husband, joined the German resistance to assist with the escape of German Jews and political dissidents. For years they provided economic and military intelligence to Washington and Moscow. In 1942, a Russian spy revealed information about the Harnack's involvement in the resistance which led to their being arrested, tortured and tried along with other members of the resistance. Mildred was guillotined in Berlin on February 16, 1943.
17 | Mary Breckinridge
(b.2/17/1881 d.5/15/1965)
Mary Breckinridge became a widow at age 26 and both children from her second marriage died before age five. She turned her sorrow to action, committing herself to raise the status of childhood everywhere as a memorial to her own lost children. She became a registered nurse in New York and then a certified midwife in London, because the US did not have a school for midwives. She moved to Kentucky and in 1925 formed the Committee for Mothers and Babies. The group evolved into the Frontier Nursing Service in 1928, which started midwifery work in the rural parts of the state which had no physicians. For Breckinridge and her "horseback angels" no home was too remote. Their philosophy was: if the father could come for a nurse, the nurse would get to the mother.
18 | Toni Morrison
(b.2/18/31)
Toni Morrison is an American author and professor whose work is noted for "its spare poetic language, emotional intensity, and sensitive observation of life." She wrote her first novel in 1970, and continued to write books based around her Black heritage. She won many literary honors, including the National Book Award and the Pulitzer Prize. She also received the 1993 Nobel Prize for Literature, becoming the first Black woman to do so. Author: Song of Solomon, Beloved, God Help the Child, The Bluest Eye
19 | Harper Lee
(b.4/28/1926 d.2/19/2016)
Harper Lee was the recipient of the Pulitzer Prize for her novel To Kill a Mockingbird, which explored the racist attitudes in the American South. She was also the recipient of the President's Medal of Freedom for her contributions to literature. Author: Go Set a Watchman.
20 | Angelina Grimké
(b.2/20/1805 d.10/26/1879)
Angelina and her sister Sarah were the first white women to be part of the Abolitionist Movement. Additionally, Angelina was a political activist and supporter of Women's Rights. Drawing her views from natural rights theory (as set forth in the Declaration of Independence), the Constitution, Christian beliefs in the Bible, and her own experience of slavery and racism in the South, Grimké argued for the injustice of denying freedom to any man or woman. She was particularly eloquent on the problem of racial prejudice. When challenged for speaking in public to mixed audiences of men and women in 1837, she and her sister Sarah Moore Grimké fiercely defended women's right to make speeches and participate in political action.
21 | Barbara Jordan
(b.2/21/1936 d.1/7/1996)
Barbara Jordan was a leader in the Civil Rights Movement. She entered politics and was elected to the Texas State Legislature. Subsequently she was the first southern Black woman elected to the US Congress. She was a recipient of the Presidential Medal of Freedom among other honors.
22 | Isabella Beecher Hooker
(b.2/22/1822 d.1/25/1907)
Isabella Beecher Hooker was a leader, lecturer and activist in the American Suffragist movement. Upon reading William Blackstone, a British jurist and commentator, Isabella came across a passage that both horrified her and transformed her life: According to Blackstone, a married woman and man were as one person under the law. Thus, marriage actually suspended a woman's legal standing and, in the eyes of the law, a wife had no rights independent of her husband. From that moment, Isabella Beecher Hooker dedicated her life's work to the enfranchisement and empowerment of women.
23 | Francis Harper
(b.9/24/1825 d.2/23/1911)
Frances Ellen Watkins Harper was an African-American abolitionist, suffragist, poet and author. She was also active in other types of social reform and was a member of the Woman's Christian Temperance. Frances was a poet who authored two collections of her poetry, Forest Leaves and Poems on Miscellaneous Subjects. She also published a short story, The Two Offers.
24 | Pearl Witherington
(b.6/24/1915 d.2/24/2008)
Pearl Witherington was given the code name "Marie", Witherington was dropped by parachute into occupied France on September 22, 1943. Over the next eight months, posing as a cosmetics saleswoman, she worked as a courier. Determined to fight back against the German occupation of France, and wanting a more active role in the fight, she joined Britain's Special Operations Executive (SOE).  Over the next eight months, posing as a cosmetics saleswoman, she worked as a courier. Witherington became a leader of the network, under the new code name "Pauline". They played an important role fighting the German Army during the D-Day landings.
25 | Alicia Dickerson Montemayor
(b.8/6/02 d.5/13/1989)
Allicia Dickerson Montemayor was a civil rights activist from Laredo, Texas, the first woman elected to a national office not specifically designated for a woman, having served as vice president general of the interest group, the League of United Latin American Citizens. She was the first woman to serve as associate editor of the LULAC newspaper and the first to write a charter to fund a LULAC youth group. Montemayor urged the inclusion of girls and women into Latino activism and also promoted the interests of middle-class Latinos, and she is a designated honoree of Women's History Month of the National Women's History Project.
26 | Mabel Keaton Staupers
(b.2/27/1890 d.11/29/1889)
A leader of vision, determination, and courage, Mabel Keaton Staupers helped break down color barriers in nursing at a time when segregation was entrenched in this country. Dedicated to improving the status of Black nurses and promoting better health care for Black Americans, she was instrumental in organizing the first private facility in Harlem, New York, where Black physicians could treat their patients.
27 | Rosa Perea
(b.4/3/52 d.2/27/1992)
Rosa Perea was born deaf and developed diabetes at age 11. The diabetes was responsible for her blindness at age 29 and kidney failure two years later. During these years, despite her illnesses and disabilities, Rosa completed her education. She then worked for the Education Commission in Washington and as a VISTA volunteer in San Antonio where she acted as a peer counselor for blind-deaf children.
28 | Mary Lyon
(b.2/2/1797 d.3/5/1849)
Mary Mason Lyon was an American pioneer in women's education. She established the Wheaton Female Seminary in Norton, Massachusetts, (now Wheaton College) in 1834. She then established Mount Holyoke Female Seminary (now Mount Holyoke College) in South Hadley, Massachusetts, in 1837 and served as its first president (or "principal") for 12 years. Lyon's vision fused intellectual challenge and moral purpose. She valued socioeconomic diversity and endeavored to make the seminary affordable for students of modest means.