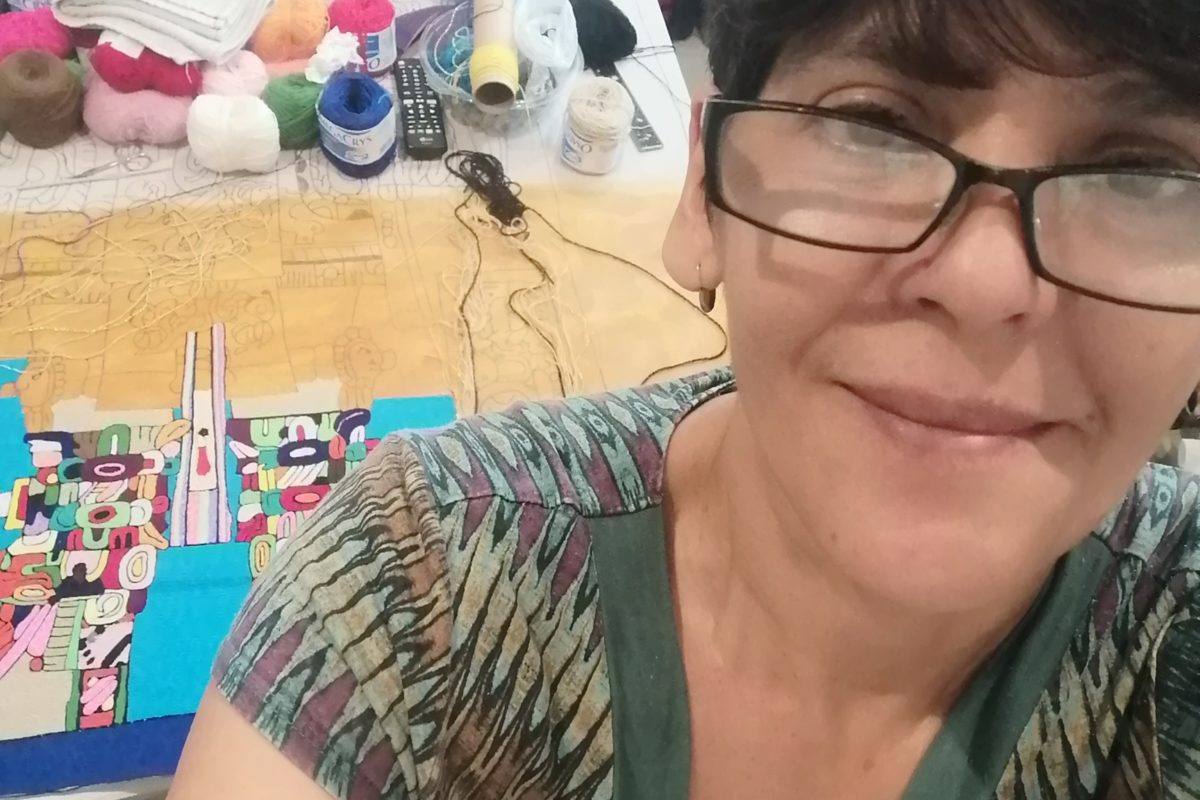 Red de Mujeres Morelenses por una Economía Solidaria
Morelos, Mexico
Finding passion and meaning — one piece of yarn at a time.
Adriana has been captivated by the complicated pre-Hispanic designs and the vivid colors of Huichol — a traditional folk art of the Huichol people that consists of pressing yarn into wax — since the moment she first learned the unique ancient technique at the age of 8-years-old. Today, the Mexican-based artist is proud that she's turned her passion into a business.
Adriana's artwork, which reflects diverse cultures from throughout history, is inspired by her fascination with her ancestral roots and the wonders of the natural world. In the past 29 years, she has created about 150 pieces that she has sold in Mexico and throughout the world.
Calendar of Women – June 2022
1 | Helen Keller
(b.6/27/1880 d.6/1/1968)
Helen Adams Keller was an American author, political activist, and lecturer. She was the first deaf-blind person to earn a Bachelor of Arts degree.
2 | Hanan Ashrawi
(b.10/8/1946)
Hanan Daoud Khalil Ashrawi is a Palestinian legislator, activist, and scholar. She was a protégée and later colleague and close friend of Edward Said. She is the first woman elected to the Palestinian National Council. She was active during the Intifada (Palestinian uprising against settlements on the West Bank) and participated in the peace negotiations.
3 |Josephine Baker
(b.6/3/06 d.4/12/1975)
Josephine Baker was a French singer and entertainer. She was also an activist and French Resistance worker. During her early career she was renowned as a dancer, and was among the most celebrated performers to headline the lavish revues of the Folies Bergère in Paris. She was celebrated by artists and intellectuals of the era, who variously dubbed her the "Black Pearl", the "Bronze Venus", and the "Creole Goddess". After the war, she was awarded the Croix de Guerre by the French military, and was named a Chevalier of the Légion d'honneur by General Charles de Gaulle.
4 |Marian Wright Edelman
(b.6/6/1939)
Marian Wright Edelman is an American activist for the rights of children. She has been an advocate for disadvantaged Americans for her entire professional life. She is president and founder of the Children's Defense Fund. CDF has become America's strongest voice for families and children.
5 | Sappho
(6th century B.C.)
Sappho wrote lyric poetry and is best known for her poems about love and women. Most of Sappho's poetry is now lost, and what is extant has survived only in fragmentary form, except for one complete poem – the "Ode to Aphrodite". Sappho was a prolific poet, probably composing around 10,000 lines. Her poetry was well-known and greatly admired through much of antiquity, and she was among the canon of nine lyric poets most highly esteemed by scholars of Hellenistic Alexandria. Today, most of Sappho's poetry is lost, but it is still considered extraordinary, and her works have continued to influence other writers up until the modern day. 
6 | Ann Manganaro
Ann Manganaro was a Sister of Loretto who died 21 years ago. She was one of seven women who opened the St. Louis Catholic Worker back in 1977. The next year, living at the Worker, Ann started medical school. She did her residency in pediatrics, was diagnosed with breast cancer, and at five years cancer-free moved from the Catholic Worker to El Salvador to be the only doctor in Guarjila, Chalatenango. Six years later her cancer had spread, leading to her death.
7 | Elizabeth Gurley Flynn
(b.8/7/1890 d.9/5/1964)
Elizabeth Gurley Flynn was a labor leader, activist, and feminist who played a leading role in the Industrial Workers of the World (IWW). Flynn was a founding member of the American Civil Liberties Union and a visible proponent of women's rights, birth control, and women's suffrage.
8 | Sr. Frances Margaret Taylor
(b.1/30/1832 d.6/9/1900)
Sr. Frances Margaret Taylor, founder of the Poor Servants of the Mother of God, first became involved in humanitarian work in 1854, when she joined Florence Nightingale's Lady Volunteer Nurses in the Crimean War. Taylor's experiences of the agony of war as well as her contact with the Sisters of Mercy led her to convert to Catholicism while still at the Front. After the war, Taylor dedicated her life to helping the poor in England. After failing to find a community of Sisters who shared her vision, Taylor decided to found her own organization, the Poor Servants of the Mother of God.
9 | Anne O'Hara Graff
(b.1951 d.1996)
Anne O'Hara Graff, was a theology teacher and writer, taught at the University of Seattle and for eight years before that at the Institute for Pastoral Studies at Loyola University. She edited the book, In the Embrace of God. about feminist theology in the Catholic Church.
10 | Equal Pay Act
(Enacted in 1963)
Over 50 years later, there is still a gap, with white women making 79% of what men make. Women of color make even less.
11 | Jeanette Pickering Rankin
(b.6/11/1880 d.5/18/1973)
Jeannette Pickering Rankin became the first woman to hold national office in the United States when she was elected to the U.S. House of Representatives in 1916 by the state of Montana as a member of the Republican Party.
12 | Anne Frank
(b.6/12/1929 d.1945)
Anne Frank is the author of Diary of a Young Girl in which she documents her life in hiding from 1942 to 1944, during the German occupation of the Netherlands in World War II. It is one of the world's most widely known books and has been the basis for several plays and films. Born a German national, Frank lost her citizenship in 1941 and thus became stateless. By May 1940, the Franks were trapped in Amsterdam by the German occupation of the Netherlands. As persecutions of the Jewish population increased in July 1942, the family went into hiding in some concealed rooms behind a bookcase in the building where Anne's father worked. From then until the family's arrest by the Gestapo in August 1944, Anne kept a diary she had received as a birthday present, and wrote in it regularly. Following their arrest, the Franks were transported to concentration camps. In October or November 1944, Anne and her sister, Margot, were transferred from Auschwitz to Bergen-Belsen concentration camp, where they died (probably of typhus) a few months later.
13 | Gloria Rolando
(b.4/4/1953)
Gloria Rolando was a native of Cuba, and her heritage has acted as a major influence to her work. A precocious student, Rolando received her pre-university diploma at the age of eighteen, majoring in Science and Literature, with a minor in Music. After attending the University of Havana, Rolando began working at the Cuban Institute of Art and Film Industry, where she has remained for two decades. In the span of her twenty-year career, Rolando has written and directed numerous films and documentaries. Rolando's work largely focuses on the cultural aspects of the Caribbean, as well as the African cultures present in Cuba. Rolando has developed the independent film group Imagines del Caribe. Her latest film concerns the 1912 massacre of the Independents of Color. 
14 | Alicia Partnoy
(b.5/8/1905)
Alicia Partnoy was an Argentinean student who joined the students from the left of the Peronist political party following Juan Peron's death. They were persecuted and imprisoned. There was a military coup in 1976 and people began to disappear. Partnoy was one of those who suffered through the ordeals of becoming a political prisoner. She became an activist of the Peronist Youth Movement while attending Southern National University. She was taken from her home and imprisoned at a concentration camp where she was tortured. She spent 2 and 1/2 years as a prisoner of conscience.
15 | Evelyn Underhill
(b.12/6/1875 d.6/15/1941)
Evelyn Underhill was an English Anglo-Catholic writer and pacifist known for her numerous works on religion and spiritual practice, in particular Christian mysticism. Underhill favored a psychological approach to spirituality. She posited that (1) mysticism is practical, not theoretical, (2) mysticism is an entirely spiritual activity, (3) the business and method of mysticism is love, and (4) mysticism entails a definite psychological experience. Her insistence on the psychological approach was that it was the glamorous science of the pre-war period, offering the potential key to the secrets of human advances in intelligence, creativity, and genius, and already psychological findings were being applied in theology.
16 | Margaret Bondfield
(b.3/17/1873 d.6/16/1953)
Margaret Grace Bondfield CH PC was a British Labor politician, trades unionist and women's rights activist. She became the first female cabinet minister, and the first woman to be a privy counselor in the UK, when she was appointed Minister of Labor in the Labor. She had earlier become the first woman to chair the General Council of the Trades Union Congress .
17 | Marita Bonner
(b.6/16/1899 d.6/16/1899)
Marita Bonner, was an American writer, essayist, and playwright who is commonly associated with the Harlem Renaissance. Throughout her life, Bonner wrote many short stories, essays and plays, and was a frequent contributor to The Crisis (the magazine of the National Association for the Advancement of Colored People) and Opportunity (official publication of the National Urban League) between 1925 and 1940. After her parents' death, she wrote her first essay, "On Being Young–A Woman–And Colored" (December 1925), which highlights the limits put on Black Americans, especially Black women.The speaker in this essay also addresses the residential segregation and social constraints she faced as a woman living in the "Black Ghetto," a community where Black Americans were "shoved aside in a bundle because of color".
18 | Fay Bennett Watts
(b.3/28/1905 d.12/13/2002)
Fay Bennett held posts at the National Sharecroppers Fund from 1952 through 1974, directing attention to rural poverty. In the 1950s she helped form the National Council for Agricultural Life and Labor, an alliance of dozens of national organizations that sought to spotlight the difficulties facing migrant farm workers and to generate laws to protect them.  During the Kennedy and Johnson administrations, she served on the National Advisory Committee on Rural Areas Development for the Department of Agriculture.
19 | Patria Jiménez
 (b.1957)
Patria Jiménez is Mexican politician and head of Clóset de Sor Juana. Openly lesbian, she became the first gay member of Mexico's legislature in the country's history—the first in any legislature in Latin America.
20 | Nedā Āghā-Soltān
Nedā Āghā-Soltān's death drew worldwide attention after she was shot dead during the 2009 Iranian election protests. Āghā-Soltān, a student of philosophy, was participating in the protests (though not politically influenced, but rather supporting the supporters of Mousavi), accompanied by her music teacher and was walking back to her car when she was fatally shot in the chest. 
21 | Miriam
Miriam, according to the Hebrew Bible, was the daughter of Amram and Yocheved and the sister of Moses and Aaron. She was a prophet who first appears in Exodus. The Torah refers to her as "Miriam the Prophetess" and the Talmud names her as one of the seven major female prophets of Israel. Scripture describes her alongside of Moses and Aaron as delivering the Jews from exile in Egypt: "For I brought you up out of the land of Egypt and redeemed you from the house of slavery, and I sent before you Moses, Aaron, and Miriam". According to the Midrash, just as Moses led the men out of Egypt and taught them Torah, so too Miriam led the women and taught them Torah.
22 | Dorothy Vaughn, Katherine Johnson, Mary Jackson
Previously unrecognized Black women mathematicians  (human computers) who worked at the National Aeronautics and Space Administration (NASA) during the Space Race.
23 | Title IX
Title IX of the Education Amendments Act of 1972 is a federal law that states: "No person in the United States shall, on the basis of sex, be excluded from participation in, be denied the benefits of, or be subjected to discrimination under any education program or activity receiving Federal financial assistance."
24 | Zora Neale Hurston
(b.1/7/1891 d.1/28/1960)
Zora Neale Hurston was an Black novelist, short story writer, folklorist, and anthropologist known for her contributions to African-American literature, her portrayal of racial struggles in the American South, and works documenting her research on Haitian voodoo. Of Hurston's four novels and more than 50 published short stories, plays, and essays, she is best known for her 1937 novel Their Eyes Were Watching God.
25 | Women in Black
A world-wide network of women committed to peace with justice and actively opposed to injustice, war, militarism and other forms of violence.
26 | Pearl S. Buck
(b.6/26/1892 d.3/6/1973)
Pearl S. Buck was an American writer and novelist. As the daughter of missionaries, Buck spent most of her life before 1934 in Zhenjiang, China. Her novel The Good Earth was the best-selling fiction book in the United States in 1931 and 1932 and won the Pulitzer Prize in 1932. In 1938, she was awarded the Nobel Prize in Literature "for her rich and truly epic descriptions of peasant life in China and for her biographical masterpieces". She was the first American woman to win the Nobel Prize for Literature.
27 | Jovita Idár
(b.9/7/1885 d.6/15/1946)
Jovita Idár was an American journalist, political activist and civil rights worker, born in Laredo, Texas in 1885. Idár strove to advance the civil rights of Mexican-Americans.
28 | Sr. Mary Tuite
(b.4/5/1905 d.1986)
Sister Marjorie Tuite, O.P. was a New York City-born and reared Dominican Sister, a progressive activist on issues related to the Church and the larger world, such as racism, poverty, war and the ordination of women.
29 | Shamita Dasgupta
(b.1949)
Shamita Dasgupta is an Asian Indian scholar, activist, wife and mother. A social activist since the early 1970s, she co-founded Manavi in 1985. She has written extensively in the areas of ethnicity, gender, immigration, and violence against women. Her books include: A Patchwork Shawl: Chronicles of South Asian Women in America, Body Evidence: Intimate Violence against South Asian Women in America, Globalization and Transnational Surrogacy in India: Outsourcing Life and Mothers for Sale: Women in Kolkata's Sex Trade. (With a mission to end all forms of violence against women, Manavi began as an awareness campaign on issues concerning South Asian women; today it continues to centralize women's needs and interests in all its organizational decisions and service provisions.)
30 | Lena Horne
(b.6/30/1917 d.5/9/2010)
Lena Mary Calhoun Horne was an American jazz and pop music singer, dancer, actress, and civil rights activist. Horne's career spanned over 70 years appearing in film, television, and theater. Horne joined the chorus of the Cotton Club at the age of 16 and became a nightclub performer before moving to Hollywood, where she had small parts in numerous movies, and more substantial parts in the 1943 films "Cabin in the Sky" and "Stormy Weather". Because of the Red Scare and her political activism, Horne found herself blacklisted and unable to get work in Hollywood.
Returning to her roots as a nightclub performer, Horne took part in the March on Washington in August 1963 and continued to work as a performer, both in nightclubs and on television while releasing well-received record albums. She announced her retirement in March 1980, but the next year starred in a one-woman show, Lena Horne: The Lady and Her Music, which ran for more than three hundred performances on Broadway. She then toured the country in the show, earning numerous awards and accolades. Horne continued recording and performing sporadically into the 1990s, disappearing from the public eye in 2000.