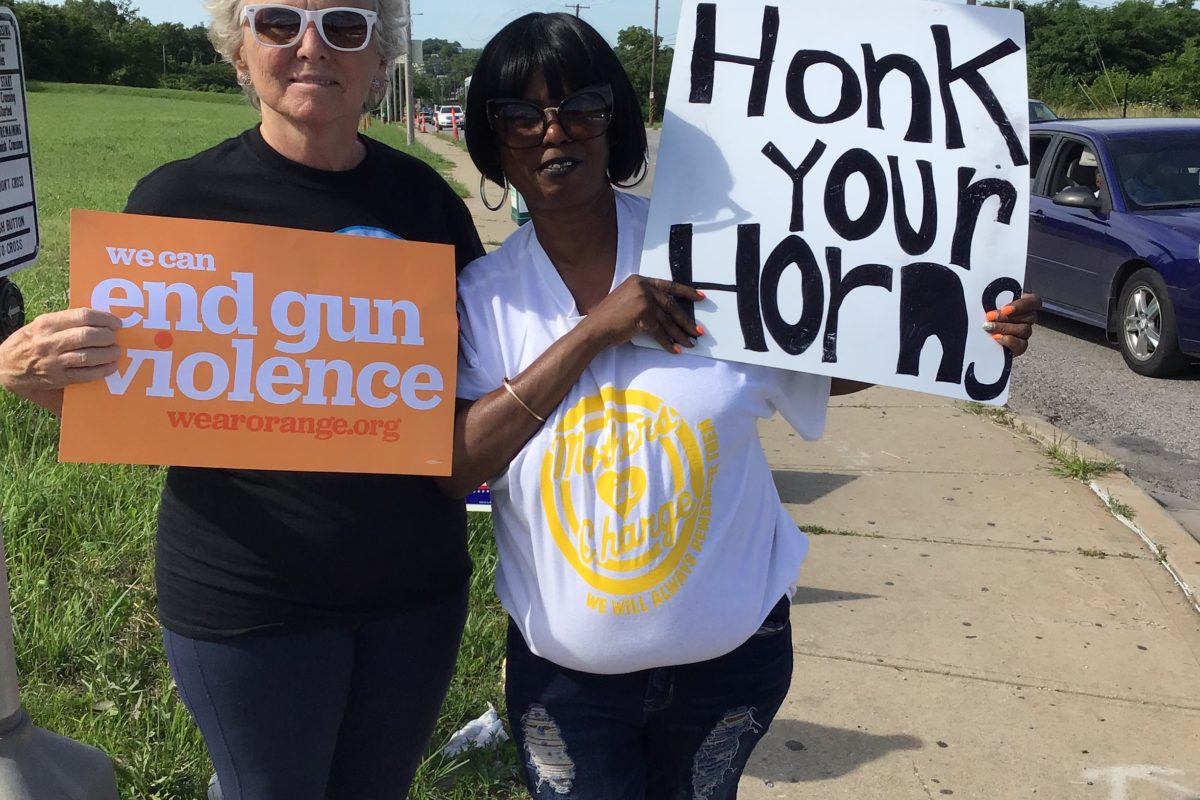 About the featured image:
KC Mothers in Charge 
Kansas City, Missouri 
Accompanying the families of victims of violent crime and working to end violence. 
KC Mothers in Charge is a group of women committed to reducing violent crime through prevention, education and intervention. Rooted in their own experiences of losing loved ones to violent crime, KC Mothers in Charge wants to prevent others from experiencing the tragedy of homicide. 
An important part of their work is supporting the families of victims of violent crime. When a homicide occurs, KC Mothers in Charge is notified immediately by the Kansas City Missouri Police Department and arrives on the scene to provide trauma-informed crisis intervention for bereaved family members and friends. KC Mothers in Charge works to organize support groups and counseling workshops for survivors, as well as provide opportunities for family and friends to participate in advocacy and anti-violence events happening citywide. 
Calendar of Women – May 2020
1 | Anna Marie Jarvis 
(b. 5/1/1864 d. 11/24/1948) 
Anna Jarvis's mother was a social activist inspired by her Methodist faith and founder of Mothers' Day Work Clubs. Jarvis attended college and worked as a teacher. Later, she found employment at a life insurance company as their first female literary and advising editor. During this time she remained close to her mother. On May 10, 1908, three years after her mother's death, Jarvis held a memorial ceremony to honor her mother and all mothers at Andrews Methodist Episcopal Church. This was the first official observance of Mother's Day.
2 | Nannie Burroughs 
(b. 5/2/1879 d. 5/20/1961) 
Nannie Helen Burroughs was an African-American educator, orator, religious leader, civil rights activist, feminist and businesswoman. She acquired fame for her 1900 speech at the National Baptist Convention, "How the Sisters Are Hindered from Helping," which drew attention to the intersection of race and gender. In 1908, she opened a vocational school for young African-American women called the National Training School for Women and Girls in Washington, DC.
3 | Maryam Mirzakhani 
(b. 5/12/1977 d. 7/24/2017) 
Maryam Mirzakhani was an Iranian mathematician and the first woman to receive the Field's Medal, the highest scientific award for mathematicians. Born in Tehran, she excelled at math from a young age, winning gold medals at international competitions. After obtaining her Bachelor's from the Sharif University of Technology, she went to the U.S. for graduate work and received her PhD from Harvard. In 2009 she became a professor at Stanford University, a position she held until her death in 2017 from cancer. 
4 | Rosalyn Yalow
(b. 7/19/1921 d. 5/30/2011)
Not believing that any respectable graduate school would admit a woman, after college Rosalyn Yalow decided to work as a secretary for various biochemists at Columbia. She then received an offer as a teaching assistant at the University of Illinois (at least in part due to the dearth of men during wartime). She earned her PhD in 1945 and was a co-recipient of the Nobel Prize in Physiology or Medicine for the development of radioimmunoassay. 
5 | Sr. Barbara Ford, SC
(b. 7/26/1938 d. 5/5/2001) 
Sister Barbara served as an educator, nurse, midwife, spiritual counselor, and missionary as a  Sister of Charity of New York. Her life's work was to help indigenous populations in the aftermath of Guatemala's Civil War/Mayan Genocide. She established mental health programs for survivors, as well as working to improve their material conditions. In 2001, Ford was shot and killed in Guatemala City in what was framed as a "robbery attempt," most likely in retaliation for her work with indigenous populations and/or her role in recovering bodies disposed of in mass graves as Health Coordinator for the Diocese of Quiche.
6 | Mary McLeod Bethune
(b. 7/10/1875 d. 5/18/1955) 
The daughter of former slaves, Mary Jane McLeod Bethune was one of the most important black educators, civil and women's rights leaders and government officials of the twentieth century. Trained as a teacher, when her marriage ended in 1904 Bethune opened a girl's boarding school to support herself and her son. The school later merged with the all-male Cookman Institute to form Bethune-Cookman College in 1929.
Bethune championed racial and gender equality and led voter registration drives after women gained the vote in 1920 despite the risk of racist attacks. She was also at the head of many notable organizations, including the National Council of Negro Women (serving as founding president) and the NAACP (serving as vice president). Furthermore, Bethune was a friend of Elanor Roosevelt and became the highest ranking African American woman in government when she was named director of Negro Affairs of the National Youth Administration by President Franklin Roosevelt, also serving in his unofficial "black cabinet."
7 | Eva Peron 
(b. 5/7/1919 d. 6/26/1952) 
Maria Eva Duarte was born into poverty in a rural Argentinian village. At the age of 15 she left for Buenos Aires to pursue a career in acting, where she met her future husband Juan Peron. Duarte married Peron in 1945, a year before her husband became president of the country. She was an enormously popular figure, speaking on behalf of labor rights and campaigning for women's suffrage. When her husband ran for a second term in 1951, Peron announced her candidacy for the office of vice president, but was forced by opposition from the nation's military and bourgeoisie, as well as her own failing health, to withdraw from the race.
8 | Phillis Wheatley
(b. 5/7/1753 d. 12/5/1784)
Born in what is now Senegal/Gambia, Phillis was seized and brought to Boston as a child. Purchased by a family for domestic service, Wheatley was taught to read and write and at age 13 published her first poem. After failed attempts at finding a publisher for her first book, in 1771 she traveled to the United Kingdom, where she became the patron of a wealthy, evangelical, abolitionist countess. Wheatley was interested in the cause of colonial independence, which contributed to her fame. Freed in 1774, she married a free black man named John Peters, with whom she had several children. The couple lived in poverty and Wheatley died alone, her husband in jail for debt at the time. 
9 | Septima Poinsette Clark
(b. 5/3/1898 d. 12/15/1987)
A teacher by trade and a native of South Carolina, Clark worked with the NAACP on a 1945 case seeking equal pay for white and black teachers. In 1956, the state made it a criminal offense for public workers to belong to civil rights organizations: rather than renounce the NAACP, Clark chose to lose her job. Clark next worked in establishing citizenship schools, an education project adopted by the SCLC in 1961. Under her leadership over 800 such schools were created. 
10 | Maggie Kuhn
(b. 8/3/1905 d. 4/22/1995)
Maggie Kuhn began her social activist work by teaching sex ed at the YWCA in the 1930s and 40s. During the 1950s and 1960s, Kuhn worked for the Presbyterian Church. Her interest in elder rights began when she attended the 1961 White House Conference on Aging. After being let go at the mandatory retirement age of 65, she formed the Gray Panthers, which as the name implies, fought for elder rights, but saw all justice issues as interconnected and was particularly active against the Vietnam War. Members were not all elders: there were many teenagers and young adults active as well. The organization's motto was "Age and Youth in Action." 
11 | Mercedes Lopez
Mercedes Lopez is a well-known Mexican artist from Oaxaca who specialized in engraving at the  Fine Arts School at Universidad Autónoma "Benito Juárez" de Oaxaca. Engraving was thought a "masculine" endeavor due to the mechanical tools involved, but she established herself in the field and proved that women could be engravers. She also works in watercolor and drawing, and her work reflects topics as diverse as the relationship between art and nature and the issue of violence in 2000s Mexico. Lopez reproduced images of violence and crime from newspapers to "appropriate the images… and transform them." She has also done much to include women in the Oaxaca visual arts scene. 
12 | Remember the Women who Nurture Us
13 | Florence Nightingale
(b. 5/12/1820 d. 8/13/1910)
Born to wealthy English parents, Florence Nightingale is credited with laying the foundation of modern, professional nursing. She became famous from her work as a manager and trainer of nurses during the Crimean war, and in 1860 established the first secular nursing school in the world at a London hospital. Nightingale was deeply concerned with improving the living conditions of the masses, as she saw a connection between unsanitary conditions and the spread of disease throughout her career. She was also a brilliant statistician and advanced the use of infographics to assist in the visualization of data. 
14 | Marjory Stoneman Douglas
(b. 4/7/1890 d. 5/14/1998)
Marjory Douglas was an American journalist and conservationist. After graduating Wellesley with a BA in English, Douglas went to work as a reporter in Miami, Florida, which at the time had only 5,000 residents. She began learning about the Everglades in the 1940s, and in 1947 wrote The Everglades: River of Grass, which argued for the protection of the Everglades against developers, who wanted to drain the land and build on it. 
15 | Digna Ochoa y Placido
(b. 5/16/1964 d. 10/19/2001)
Digna Ochoa was a Mexican human rights lawyer from the state of Veracruz. She attended law school in the state capital of Xalapa and graduated in 1984. In 1986, she began working for the office of the state Attorney General. Ochoa was active with opposition political groups, which led to her being abducted on various occasions, first in 1988 and later in 1999. In 2000, she exiled herself to Washington, DC, but the following year returned to work in Mexico City, where she was murdered. 
16 | Sr Margaret Anna Cusack
(b. 5/6/1829 d. 6/5/1899)
Born in Dublin, Margaret Anna Cusack was raised in the Anglican Church until converting to Catholicism in 1858. She entered the Irish Poor Clare Sisters, where, with the name of Sister Francis Clare, she wrote prolifically on local histories, biographies and social issues. She was particularly concerned with the liberation of women and children who were victims of oppression, campaigning for tenant's rights and providing an education to the poor. Income from her books was distributed throughout Ireland as famine relief. In 1881, Cusack formed an industrial school for young women. Three years later she decided to found her own community, the Sisters of St. Joseph of Peace. The work was exhausting, and after becoming disillusioned with the patriarchal Church, Cusack left the Sisters of St. Joseph of Peace and returned to the Church of England. 
17 | Satya Rani Chadha
(b. 1929 d. 7/1/2014)
Satya Rani Chadha worked together with fellow activist Shahjahan Apa to launch the anti-dowry movement in India in the 1980s after both mothers lost daughters to dowry disputes. In Chadha's case, her daughter Shashi Bala was killed by her husband after less than a year of marriage because Chadha could not afford the full dowry request. Together, Chadha and Apa spent decades campaigning for justice and to change dowry practices in India and founded Shakti Shalini, a refuge and women's rights organization. 
18 | Ida Bell Wells
(b. 7/16/1862 d. 3/25/1931)
Ida Bell Wells-Barnett was an American investigative journalist, leader in the civil rights movement of her time and educator. She began her journalistic career as co-owner and writer for Memphis Free Speech and Headlight newspaper, reporting on racial segregation and inequality. Her magnum opus "Southern Horrors: Lynch Law in all its Phases," documented the practice of lynching in the United States and was carried around the nation in black-owned newspapers even as a white mob destroyed her own newspaper office and presses in retaliation. Fearing for her safety, Wells moved from Memphis to Chicago, where she married and had a family. There, she carried on her work writing, speaking and organizing for civil rights, as well as the women's suffrage movement, which she did not hesitate to critique for its racist attitudes. 
19 | Lorraine Hansberry
(b. 5/19/1930 d. 1/12/1965)
Born in Chicago into a family involved in the civil rights movement, Lorraine Hansberry became politically active with the Communist Party while attending the University of Wisconsin-Madison. She moved to Harlem to pursue her dream of writing and in 1951 became a staff member of the Freedom Newspaper, a black newspaper published by Paul Robeson. As an activist, Hansberry was involved with the US civil rights movement and supported anti-colonialist causes, considering the struggles to be interconnected. In 1953 she married Robert Nemiroff, with whom she separated 4 years later. Hansberry was a closeted lesbian, and toward the end of her life she embraced her sexuality. Her first play, A Raisin in the Sun, was completed in 1957 and first performed in 1959, where it was the first play by an African American woman to be shown on Broadway. 
20 | Sr Rose Hawthorne, OP
(b. 5/20/1851 d. 7/6/1926)
Rose Hawthorne grew up in Massachusetts, Liverpool, London, Paris, Rome, and Florence. In 1871, she married author George Parsons Lathrop and in 1891 the pair converted to Roman Catholicism. Hawthorne separated from George soon after, spending time with the Sisters of Charity of Saint Vincent de Paul and in 1896 received training as a nurse at the New York Cancer Hospital. She began Sister Rose's Free Home to meet the needs of poor cancer patients, and as Mother Mary Alphonsa founded the Dominican Sisters of Hawthorne. 
21 | Mitsuye Endo
(b. 5/10/1920 d. 4/14/2006) 
Mitsuye Endo was born in Sacramento, California as the second of four children of first generation Japanese immigrants. The household spoke English and was Methodist, and her older brother was drafted into the U.S. Army. Endo worked as a secretary with the California State's Department of Motor in Sacramento. This, as well as her prior involvement in an employment discrimination appeal, made her an excellent candidate as an "all-American" plaintiff for attorney James Purcell, who was determined to file suit against the detention of over 120,000 persons of Japanese ancestry and close the detention camps. Following executive order 9066, Endo and her family had been incarcerated and transported to the Tule Lake War Relocation Center 300 miles north of Sacramento. 
On July 13, 1942, Purcell filed a writ of Habeas Corpus. The following year the United States District Court in Northern California denied her petition. In an attempt to prevent the case from going forward, the War Relocation Authority offered a deal to release her family if they left the west coast and their former home. She refused, extending her internment for an extra two years. She was later moved to the Topaz War Relocation Center in Utah to avoid California's legal jurisdiction (which is where she met her future husband, Kenneth Tsutsumi), but on Dec 18, 1944, the court unanimously ruled that the government could not detain citizens who were loyal to the United States.
22 | Judy Chicago
(b 6/20/1939)
Judy Chicago is an American feminist artist, art educator and writer whose work examines the role of women in history and culture. During the 1970s, Chicago founded the first feminist art program in the United States at Fresno State College and acted as a catalyst for feminist art and art education. Judy Chicago was born Judith Sylvia Cohen in 1939, and began to draw at the age of three. She was sent to the Art Institute of Chicago to attend classes. She attended UCLA on a scholarship, where she became politically active, designing posters for its NAACP chapter. In June 1959, she met Jerry Gerowitz, who she married two years later. Gerowitz died in a car crash in 1963, which devastated her. She still received her Masters degree in 1964.  As Chicago made a name for herself as an artist, she didn't feel connected to her last name and decided to change it to something independent of a man by marriage or heritage. Gallery owner Rolf Nelson nicknamed her "Judy Chicago" because of her strong personality and thick Chicago accent. She decided this would be her new name. 
23 | Concha Ortiz y Pino
(b. 5/23/1910 d. 9/30/1996)
Maria Concepcion "Concha" Ortiz y Pino de Kleven was a New Mexican politician. In 1936, she became the sixth generation of her family to serve in the state legislature. In 1941, at age 30, she became Democratic majority whip, the first woman to hold such a position in state government. President Kennedy appointed her to the National Council of Upward Bound, which provides high school students access to mentors, after-school tutoring, academic advising and opportunities for career and leadership development. Ortiz y Pino founded the state's first educational program dedicated to traditional Hispano crafts, and advocated for bilingual education, disabled and women's rights. Lyndon B. Johnson later asked her to serve on the national commission that created the Americans with Disabilities Act and Gerald Ford appointed her to the National Humanities Council. After leaving politics, Ortiz y Pino served on several community boards until her death.
24 | YWCA
(est. 1855) 
The first Young Women's Christian Association was established in England in 1855 "to advance the physical, social, intellectual, moral, and spiritual interests of young women." It is completely independent of the YMCA. In the U.S., groups formed independently in various cities the national organization was formed in 1906. Early YWCA groups were influenced by the effects of the Industrial Revolution on the lives of young women. It has provided safe housing for girls to alleviate poverty and to help girls and women move into the mainstream of society. Now best-known for its recreational and physical education programming, the YWCA is also concerned with racial equality, health care, public policy, employment, child and leadership training. 
25 | Forugh Farrokhzad
(b. 12/29/1934 d. 2/13/1967)
Forugh Farrokhzad was an influential and controversial Iranian poet and film director, who wrote from a female point of view. She attended school until the ninth grade, then was instructed in painting and sewing at a girls' school. At 16 she was married to satirist Parviz Shapour, and her only child, a son named Kamyar Shapour was born a year later. The couple separated, formally divorcing in 1954, with Farrokhzad losing custody of her son. In 1958, Farrokhzad spent nine months in Europe. Returning to Iran and searching for a job, she met filmmaker and writer Ebrahim Golestan, who encouraged her self-expression and became her lover. 
26 | Sr Mary Ellen Butcher, OP
27 | Rachel Carson
(b. 5/27/1907 d. 4/14/1964)
Rachel Carson was a writer, scientist and ecologist, who grew up in the rural river town of Springdale, Pennsylvania. Carson received her MA in zoology from Johns Hopkins University in 1932. She was hired by the U.S. Bureau of Fisheries and for fifteen years served as a science editor, rising to become Editor-in-Chief of all publications for the U. S. Fish and Wildlife Service, where she wrote pamphlets on conservation and natural resources. Carson became famous as a naturalist and science writer for her 1952 prize-winning study of the ocean, The Sea Around Us. That same year, she resigned from government service to devote herself to her writing. Her 1962 book Silent Spring warned the public about the long-term effects of chemical pesticides, challenging the practices of agricultural scientists and the government. In 1963 Carson testified before Congress, calling for new policies to protect human health and the environment. 
28 | Julia Ward Howe
(b. 5/27/1819 d. 10/17/1910)
Julia Ward Howe was an American poet, author, and women's suffragist best known for writing "The Battle Hymn of the Republic". Born in New York City, Howe moved to Boston and there met her future husband, Samual Gridley Howe, a doctor and social reformer. They married in 1843 and had six children but Howe was largely unhappy with the marriage because her husband did not approve of her writing, which often critiqued women's roles as wives and place in society. They separated in 1852. 
Howe was inspired to write "Battle Hymn" after meeting Abraham Lincoln at the White House in November 1861. Set to already-existing music, she published her lyrics in February 1862. It quickly became an extremely popular song within the Union. After the war she became focused on the causes of pacifism and women's suffrage. In 1869, she and Lucy Stone co-lead the American Woman Suffrage Association and three years later she became the editor of Woman's Journal, a widely-read suffragist magazine. In 1908 Julia was the first woman to be elected to the American Academy of Arts and Letters. 
29 | Jehan Sadat
(b. 8/29/1933)
Jehan Sadat is an Egyptian feminist politician and served as First Lady of Egypt from 1970 until her husband's assassination in 1981. She met and married her husband Anwar Sadat at age 15, despite her parents' objections and hesitations of their daughter marrying a jobless revolutionary. Anwar Sadat was a core member of the Free Officers Movement that led the Egyptian Revolution of 1952 and overthrew the monarchy of Egypt and Sudan. As first lady of Egypt, she changed the world's image of Arab women, both with her extremely active volunteer work and in the legal sense, where she played a key role in reforming Egypt's civil rights laws during the late 1970s. The new statutes she advanced granted women a variety of new rights, often referred to as "Jehan's Laws." 
30 | St Joan of Arc
(b. 1412 d. 5/4/1431)
Joan of Arc, the Maid of Orleans, grew up in Domrémy in northeast France during a phase of the Hundred Year's War. Her parents were peasants, but her father possessed his own land. Several local raids occurred during her childhood and on one occasion her village was burned. At age 13, the first of many heavenly visions to come appeared to her in her father's garden, telling her to drive out the English and restore the Dauphin to his throne. She was especially acquainted with visions of Saints Michael, Catherine, and Margaret. When Joan was 16, she asked a relative to take her to a garrison, seeking an armed guard on her way to the French Royal Court. She was spurned at the first meeting, but at the second she made a prediction about the Battle of Rouvray several days before messengers arrived to report it. This was enough to persuade the official to take her to the Dauphin. 
Joan first met Charles in 1429 when she was 17 and he was 26. She made a strong impression on Charles during a private conference with him, telling him that she had been sent by God to save France. A commission of theologians confirmed that she was a good Christian and advised the Dauphin that her mission may well be divine. However, they recommended that her claims be tested by seeing if her prediction of lifting the siege of Orléans was correct. It's debated to what extent she actively led and participated, as she never directly commanded a nobleman. But the noblemen deferred to her judgement, resulting in remarkable success, and there is no doubt that as a figurehead she immensely improved morale. 
The siege was lifted, which gained her the support of prominent clergy, while the English attributed her abilities to the devil. Joan was captured and imprisoned by English allies and handed to them under the approval of Bishop Pierre Cauchon of Beauvais. She was moved to Rouen and tried for heresy. This trial was obviously politically motivated, as it was overseen by English commanders and paid for by the English crown. Furthermore, it was not conducted under the proper stipulations required by the Inquisition. After their attempt to charge her with heresy completely failed, Joan was tried for the repeat offense of "cross-dressing." This, too, was mishandled, as the medieval Church actually condoned cross-dressing in cases of "necessity." 
Joan was sentenced to death and burnt at stake. After the end of the war, her mother convinced the Inquisitor-General to open a "nullification trial." Joan's trial was found to be unjust and in violation of canon law and she was declared innocent in 1456. Her canonization took place some centuries later, in 1920. She is the patron of France, soldiers and political prisoners, her legacy manipulated throughout the ages by the agendas of others in and outside of France, for peace and for war, and as reason to either obey or subvert the subservient status of women. Her feast day is May 30. 
31 | Elizabeth Blackwell, MD
(b. 2/3/1821 d. 5/31/1910)
Elizabeth Blackwell was a physician and the first woman to receive a medical degree in the United States. Born and raised in Britain, she frequently crossed the Atlantic in her efforts to raise social awareness of girls' education, especially in medicine, and moral reformer. After receiving her degree in 1849, she along with her sister founded the New York Infirmary for Women and Children in 1857 and also played an important role during the civil war organizing and training nurses for the Union.