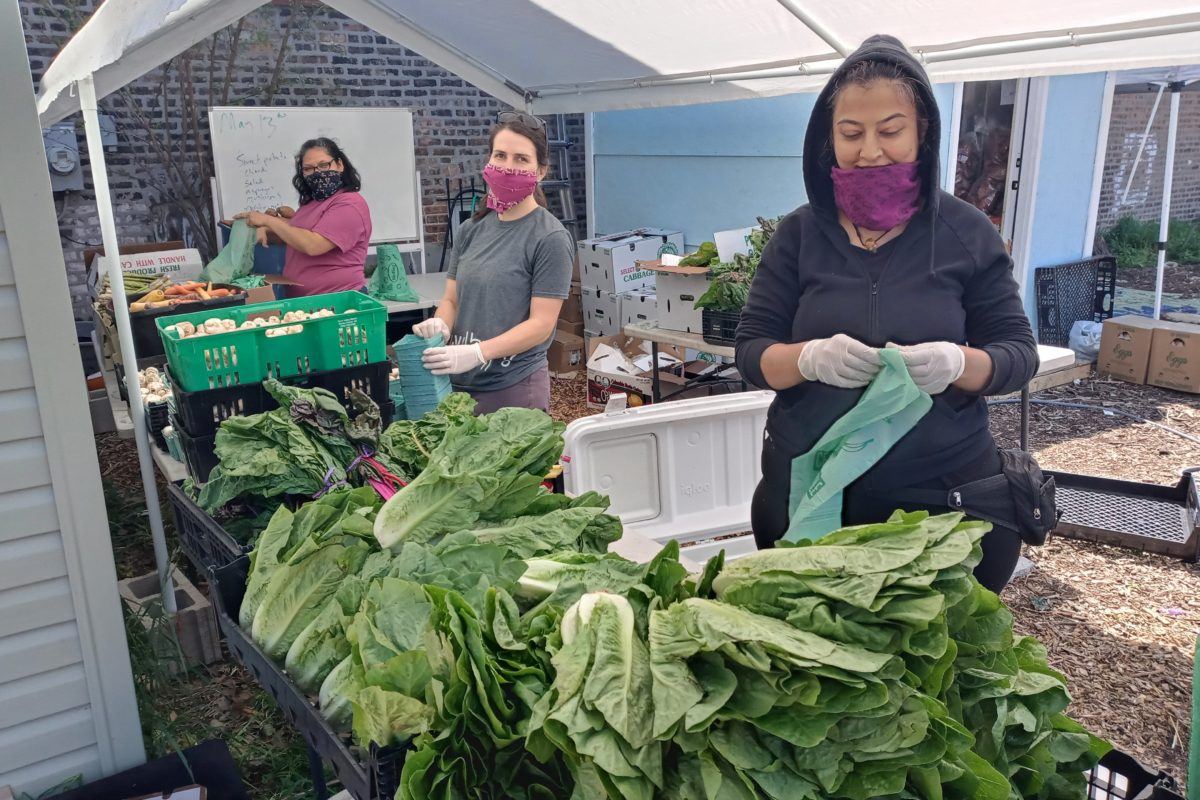 Star Farm Chicago
Chicago, Illinois
Creating community through gardening, nutrition, and vocational training.
Star Farm Chicago increases the accessibility of local organic produce and provides local jobs, vocational training, and business incubation for adults with physical and developmental disabilities and employment barriers. They also host gardening programs and community events to engage with local LGBTQIA and youth.
Star Farm Chicago's grant from Mary's Pence supports The Women and Children's Gardening Program, which engages women and caregivers in urban communities in garden activities and creates a culture of healthy eating for families in the community.
Calendar of Women – November 2021
1 | Olympe de Gouges 
(b.5/7/1748 d.11/3/1793)
Olympe de Gouges, was a French playwright and political activist whose feminist and abolitionist writings reached a large audience.
2 | Rosemary Radford Ruether
(b.11/2//1936)
Rosemary Radford Ruether) is an American feminist scholar and Catholic theologian. Ruether is an advocate of women's ordination, a movement among Catholic women who affirm women's capacity to serve as priests, despite official sanction. Since 1985 Ruether has served as a board member for the pro-choice group "Catholics for Choice". Ruether holds a B.A. in Philosophy from Scripps College (1958), an M.A. in Ancient History (1960) and a Ph.D. in Classics and Patristics (1965) from Claremont Graduate School in Claremont, California.
She is Visiting Professor of Religion and Feminist Theology at Claremont School of Theology and Claremont Graduate University. Her first appointment was as professor at Howard University in Washington D.C. from 1965 to 1975. She was Carpenter Professor of Feminist Theology at the Pacific School of Religion and Graduate Theological Union, and retired from her long-term post as Georgia Harkness Professor of Applied Theology at the Garrett-Evangelical Theological Seminary. Ruether is the author of 36 books and over 600 articles on feminism, ecofeminism the Bible and Christianity. in 1977, Ruether became an associate of the Women's Institute for Freedom of the Press (WIFP). WIFP is an American nonprofit publishing organization. The organization works to increase communication between women and connect the public with forms of women-based media. Rosemary Radford Reuther is a founding board member of Mary's Pence.
3 | Anne Knight
(b.11/2/1786 d.11/4/1862)
Anne Knight was a social reformer noted as a pioneer of feminism. Anne Knight founded a branch of the Women's Anti-Slavery Movement. When the group was not allowed to participate in the Anti-Slavery Convention, she began her work in women's rights.
4 | Janemarie Luecke
(b.4/24/1924)
Janemarie Luecke is one of the original founders of Mary's Pence. She was born on a farm in Okeene, Oklahoma and entered the Benedictine Order in 1943. She received her B.A. degree from Benedictine Heights College in Tulsa in 1948, her M.A. from Marquette University in 1956, and in 1964 she earned her Ph.D. from Notre Dame University.
5 | Margaret Lucas Cavendish
(b.6/10/1904 d.12/15/1673)
Margaret Cavendish was a poet, philosopher, writer of prose romances, essayist, and playwright who published under her own name at a time when most women writers published anonymously. Her writing addressed a number of topics, including gender, power, manners, scientific method, and philosophy. Her utopian romance, The Blazing World, is one of the earliest examples of science fiction. Cavendish is singular in having published extensively in natural philosophy and early modern science. She published over a dozen original works; inclusion of her revised works brings her total number of publications to twenty-one.
6 | Sr. Jeanne Chezard de Matel
(b.11/6/1596 d.9/11/1670)
Sr.Jeanne Chézard de Matel was a French mystic who founded the Order of the Incarnate Word and Blessed Sacrament, whose rule and constitution were approved in 1633 with the principal objective of youth education.
7 | Marie Curie
(b.11/7/1867 d.7/4/1934)
Marie Skłodowska Curie, was a Polish and naturalized-French physicist and chemist who conducted pioneering research on radioactivity. She was the first woman to win a Nobel Prize, the first person and only woman to win twice, the only person to win a Nobel Prize in two different sciences, and was part of the Curie family legacy of five Nobel Prizes. She was also the first woman to become a professor at the University of Paris. During her work, she discovered two elements, radium and polonium.
8 | Fanny Kemble
(b.11/27/1809 d.1/15/1893)
Frances Anne "Fanny" Kemble was a notable British actress from a theatre family in the early and mid-19th century.
9 | Diana Hayes
Diana L. Hayes is Emeritus Professor of Systematic Theology at Georgetown University (retired). She holds the Juris Doctor (Law), Ph.D. (Religious Studies) and Doctor of Sacred Theology (STD) degrees and is the first Black woman to earn a Pontifical Doctorate in Theology (Catholic University of Louvain).  She has received numerous awards including the Elizabeth Seton Medal for Outstanding Woman Theologian and the US Catholic Award for Furthering the Role of Women in the Church as well as three honorary doctorates. Dr. Hayes has lectured throughout the United States, Europe and in South Africa on issues of race, class, gender and religion, womanist and Black theologies, women in the Catholic Church, and African American Religion(s).
10 | Lynda Van Devanter
(b.4/30/1905 d.11/15/2002)
Lynda Van Devanter is an advocate and spokeswoman for veterans of the Vietnam War, Lynda Van Devanter's death in 2002 was greatly mourned by the Vietnam Veterans of America (VVA). The president of the VVA said of Van Devanter that "She was a valued friend, a devoted colleague, an accomplished nurse, and a loving mother and wife." After serving as a U.S Army nurse in Pleiku, Van Devanter founded the Vietnam Veterans of America, and initiated and served as administrative head of the VVA's Women's Project. At this time Van Devanter also began organizing national seminars for veterans, while serving as a counselor as well. Four years after founding the VVA, Van Devanter wrote her acclaimed memoir Home before Morning, helping to present to Americans stories of the women who served in the Vietnam War. In 1987, the VVA honored Van Devanter with its Excellence in the Arts Award, and in 2002 she received the VVA Commendation Medal.
11 | Sr. Catherine McAuley
 (b.9/29/1778 d.11/11/1841)
The Venerable Mother Catherine Elizabeth McAuley was an Irish nun, who founded the Sisters of Mercy in 1831.The Order has always been associated with teaching, especially in Ireland, where the nuns taught Catholics (and at times Protestants) at a time when education was mainly reserved for members of the established Church of Ireland.
12 | Mary Astell
(b.11/12/1660 d.5/11/1731)
Mary Astell was an English feminist writer and rhetorician. Her advocacy of equal educational opportunities for women has earned her the title "the first English feminist."
13 | Juliana Dogbadzi
Juliana Dogbadzi, enslaved in a shrine in her native Ghana as a young child under a custom known as Trokosi, was forced to work without pay, without food or clothing, and to perform sexual services for the holy man. She was able to escape seventeen years later, after several failed attempts, at the age of twenty-three. Trokosi comes from an Ewe word meaning "slave of the gods," and is understood as a religious and cultural practice in which young girls, mostly virgins, are sent into lifelong servitude to atone for the alleged crimes of their relatives. In 1997, it was estimated that approximately five thousand young girls and women were being kept in 345 shrines in the southeastern part of Ghana. Through Juliana Dogbadzi's daring escape and her subsequent efforts to denounce the system, the Trokosi practice was banned in Ghana; however, law enforcement against Trokosi is still lax. Dogbadzi speaks out against Trokosi, traveling the country, meeting with slaves and trying to win their emancipation; and increasingly, she is not alone in her courageous stance.
14 | Julia and Celina Ramos
Julia and Celina Ramos were housekeepers for six Jesuits who were murdered by the Salvadoran military on the campus of the University of Central America (UCA) in San Salvador, El Salvador.  Elba Ramos and Celina Marisela Ramos, were murdered there as well. The Jesuits were labeled subversives by the Salvadoran Government for speaking out against the oppressive socioeconomic structure of Salvadoran society. Their assassinations were ordered for their unwavering defense of the poor. Celina and Julia were two of over 70,000 victims who died in El Salvador's civil war which raged in the 1980s and early 1990s. The vast majority of these victims were civilians killed by El Salvador's armed forces and paramilitary death squads. The death of the Jesuits brought international outrage and condemnation upon the Salvadoran Government and pressured them to negotiate an end to their country's civil war.
15 | Women of Liberia Mass Action for Peace
The Women of Liberia Mass Action for Peace movement started in Liberia as a successful effort to bring the Second Liberian Civil War to an end. It was organized by Leymah Gbowee and began with thousands of local women singing and praying in a fish market. Thousands of Muslim and Christian women from various classes mobilized their efforts, staged silent nonviolence protests that included a sex strike and the threat of a curse. The non-violent demonstrations lasted for months before they were ultimately successful.
16 | Margaret Hassan
(b.4/18/1945 d.11/8/2004)
Margaret Hassan, also known as "Madam Margaret", was an Irish-born aid worker who worked in Iraq for many years until she was abducted and murdered by unidentified kidnappers in 2004, at the age of 59. Her remains have never been recovered.
17 | Winson Hudson
(b.11/17/1916 d.5/1/2004)
Winson Hudson, was an American civil rights activist. She fought for voters' rights and worked to begin Head Start in Leake County, Mississippi. Ms. Hudson was one of the unsung, unheralded heroes of the civil rights movement," Vernon E. Jordan Jr., who knew her as director of the Voting Education Project of the Southern Regional Council in the 1960's, said in an interview. 'Her work represents the essence of what took place," he continued. "There's a lot written about the leaders but not much about the contributions of the Mrs. Hudsons of the world." Bob Moses, the Student Nonviolent Coordinating Committee's Mississippi field secretary in the 1960's, talked in an interview about the reign of terror of white supremacists whom he said wanted to eliminate the leadership of the N.A.A.C.P. He called Mrs. Hudson "a part of that very small network of people who not only survived but actually found ways to struggle." He continued, "It is inconceivable that the movement could have happened the way it did in Mississippi without these people."
18 | Wilma Mankiller
(b.11/18/45 d.4/6/2010)
Wilma Pearl Mankiller was the first female chief of the Cherokee Nation. A liberal member of the Democratic Party, she served as principal chief for ten years from 1985 to 1995. She is the author of a national-bestselling autobiography, Mankiller: A Chief and Her People and co-authored Every Day Is a Good Day: Reflections by Contemporary Indigenous Women. Mankiller's administration founded the Cherokee Nation Community Development Department and saw a population increase of Cherokee Nation citizens from 55,000 to 156,000.
19 | Emma Lazarus
(b.7/22/1849 d.11/19/1887)
Emma Lazarus is the author of the "New Colossus" the poem on the plaque of Statue of Liberty.
New Colossus
Not like the brazen giant of Greek fame,
With conquering limbs astride from land to land;
Here at our sea-washed, sunset gates shall stand
A mighty woman with a torch, whose flame
Is the imprisoned lightning, and her name
Mother of Exiles. From her beacon-hand
Glows world-wide welcome; her mild eyes command
The air-bridged harbor that twin cities frame.
"Keep, ancient lands, your storied pomp!" cries she
With silent lips. "Give me your tired, your poor,
Your huddled masses yearning to breathe free,
The wretched refuse of your teeming shore.
Send these, the homeless, tempest-to to me,
I lift my lamp beside the golden door!"
20 | Nora Kinzer Bell
(b.1942 d.1/24/2004)
Nora Kizer Bell was hired as the President of Hollins University, a women's university, in March 2002 and started the job four months later. She arrived after a tumultuous period for the university. Bell was an outspoken advocate of single-sex education, and she also embarked on a campaign to raise the national profile of Hollins. Her efforts were rewarded, with improved ratings and more applications.
21 | Our Lady of the Presentation Quinche, Ecuador
Ecuadorian legend asserts that the vision of Our Lady appeared in a cave to some of the indigenous Oyacachi, promising to protect their children. A carver was asked to make a statue of Our Lady. The statue Diego brought looked just like the lady in the vision. The Oyacachi asked Diego to stay and help them build a shrine for the statue; he declined and started home. His horse threw him as they crossed a bridge, and Diego was miraculously saved after he had prayed for Our Lady's intervention; he understood that this was a sign, went back to the Indians, and built an altar for the statue. The National Shrine of Our Lady of the Presentation of El Quinche, is that wooden image of the Virgin Mary which attracts more than 800,000 people on a pilgrimage to the shrine in November.
22 | St. Cecelia
(2 c.)
St. Cecelia is the patron of music. According to her story, despite her vow of virginity, she was forced by her parents to marry a pagan nobleman named Valerian. During the wedding, Cecilia sat apart singing to God in her heart, and for that she was later declared the saint of musicians When the time came for her marriage to be consummated, Cecilia told Valerian that watching over her was an angel of the Lord, who would punish him if he sexually violated her but would love him if he respected her virginity. When Valerian asked to see the angel, Cecilia replied that he could if he would go to the third milestone on the Via Appia and be baptized by Pope Urban I. After following Cecilia's advice, he saw the angel standing beside her and crowning her with a chaplet of roses and lilies.
23 | Our Lady of Peace, El Salvador
Tradition holds that in 1682 some merchants found an abandoned box on the shore of El Salvador's Mar del Sur. Unable to open it, they tied the box on a donkey's back and set out to inform the local authorities of their find. When they were passing the parish church, now a cathedral, the donkey lay down on the ground. They were then able to open the box and were surprised to find that it contained an image of Our Lady holding the Child. It is said that a bloody struggle was going on between the inhabitants of the region, but when they heard of the marvelous discovery in the abandoned box, they put down their weapons and immediately ceased fighting. This is why the image was given the title of Our Lady of Peace, whose liturgical celebration is held on November 21 in memory of its arrival at San Miguel.
24 | Las Mariposas
(11/25/1960)
The Mirabal Sisters were three Dominican sisters who opposed the dictatorship of Rafael Trujillo (El Chivo) and were involved in clandestine activities against his regime. Three of the sisters were assassinated on November 25, 1960. The assassinations turned the Mirabal sisters into "symbols of both popular and feminist resistance" In 1999, in the sisters' honor, the United Nations General Assembly designated November 25 the International Day for the Elimination of Violence against Women.
25 | St. Gregoria Ortega, Sr. Gloria Gallardo, and Sr. Yolanda Tarango
Original members of Las Hermanas, founded in April 1971 by Sr. Gloria Gallardo, a Sister of the Holy Ghost, and Sr. Gregoria Ortega, a Victory Noll Sister. And despite the successes the group would achieve, there were many obstacles in the early days. Inspired by the activism of the Chicano movement and the momentum of Vatican II that modernized the church and made it more accessible, Gallardo and Ortega decided to hold a meeting in Houston with other sisters. But when they asked bishops for the names of sisters with Spanish surnames, Sr. Tarango said, "They got minus one percent response to their survey." Eventually they appealed to the Leadership Conference of Women Religious and were able to get a letter out to all of those congregations in the United States. Sr. Yolanda Tarango is a founding board member of Mary's Pence.
26 | Emma Goldman

 (b.6/27/1869 d.5/14/1940)
Emma Goldman was born in a Jewish ghetto in Russia, where her family ran a small inn. She was sent to America to live with her sister, earning meager wages as a seamstress. Eventually she became an influential and well-known anarchist of her day. Goldman was an early advocate of free speech, birth control, women's equality and independence, and union organization. Her criticism of mandatory conscription of young men into the military during World War I led to a two-year imprisonment, followed by her deportation in 1919. Until her death in 1940, she continued to participate in the social and political movements of her age, from the Russian Revolution to the Spanish Civil War. Emma stands as a major figure in the history of American radicalism and feminism.
27 | Dorothy Day
(b.11/8/1897 d.11/27/1980)
Dorothy Day was a journalist, social activist, and Catholic convert. Day initially lived a bohemian lifestyle before gaining fame as a social activist. She later became a key figure in the Catholic Worker Movement and earned a national reputation as a political radical, perhaps the most famous radical in American Catholic Church history. In her autobiography, The Long Loneliness, Day chronicles her life in radical movements, her conversion to Catholicism, and beginning the Catholic Worker Movement.
28 | Dr. Mary Edwards Walker
(b.11/26/1832 d.2/21/1919)
Dr. Mary Edwards Walker was an American feminist, abolitionist, prohibitionist, prisoner of war during the Civil War and surgeon. Dr. Edwards crossed enemy lines to treat patients, was captured and held a prisoner of war. After she was freed through a prisoner exchange, she received the Medal of Honor.She remains the only woman recipient of this honor.
29 | Shirley Chisholm
(b.11/30/24 d.1/1/2005)
Shirley Chisholm became the first Black woman elected into Congress in 1968. She spoke for civil rights, women's rights, rights for the poor, increases in federal funding for education and was a vocal opponent of the draft and the Vietnam War. She co-founded the National Organization of Women (NOW). In 1972 she made a bid for the Democratic Presidential Nomination but lost to Senator George McGovern.
30 | Elizabeth Kenny
(b.9/20/1880 d.11/30/1952)
Elizabeth Kenny was born in New South Wales, Elizabeth Kenny graduated from college in 1902 and was a nurse in the bush country districts of Queensland, Australia from 1911-1914. During these years, she developed a treatment for polio that consisted of stimulating affected muscles using hot, moist packs and passive exercise, then active exercise. She established a clinic in Townsville, Queensland in 1933 and, despite opposition, saw her method finally accepted in 1939. She lectured in the United States and gained the support of the American Medical Association. In 1942 she established the Kenny Institute in Minneapolis to teach her method.